For sales inquiries,
please contact us at:


sales@thecus.com
For marketing inquiries, please contact us at:


marketing@thecus.com
2010-06-28
Editors impressed by small size and near-silent operation

06/28/2010 – Compact yet powerful, the N0204 miniNAS from storage innovator Thecus® Technology wows everyone with its diminutive form factor and wealth of storage functionality. Recently, Computeractive brought on of these tiny wonders into their test labs, and when they were done with it, found that there was indeed a lot to like about the miniNAS, saying that "…the N0204 is decent value."
Computeractive begins with a short overview of the N0204: "The concept of the Thecus N0204 is simple: you put one or more standard hard disks inside, connect it to the network and it provides storage that can be accessed from every PC in the house. Some such device can be large, but the N0204 is a tiny alternative, measuring less than 14x9x7cm. The reason it's so small is that rather than the 3.5in hard disks used by most NAS devices, the N0204 uses smaller 2.5in models of the type used in laptops. It has room for two, and fitting them was easy: screw them into the supplied trays, then slide those into the back of the device."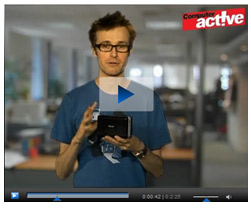 Silence and security are all included: "Like all NAS devices the N0204 takes a while to set up: you must first use a utility that finds it on the network, then upload some software, then wait while it formats the disks. This took some time, but we were pleased that it automatically set itself up using Raid backup technology so that if one hard disk fails all your data is safe on the other."
The verdict? "…the N0204 is decent value. It's roughly the same cost as equivalent but larger devices, and will suit those who value their shelf space more than fancy options and media streaming."
For the full review, check out:
http://www.computeractive.co.uk/computeractive/hardware/2264560/thecus-n0204
For more information on the N0204, check out:
http://www.thecus.com/products_over.php?cid=11&pid=198
---
About Thecus
®
Thecus® Technology Corp. specializes in IP Storage Server solutions, including Network Attached Storage (
NAS
) , DAS, External Storage and Wireless Media
NAS
(Bank ) products. The company was established in 2004 with the mission to make technology as transparent and easy-to-use as possible, and to make products that are not only the best on the market, but are accessible to experts and novices alike. With a best-in-class R&D team highly experienced in storage hardware and Linux software and with a keen customer focus, Thecus® stays close to the market to develop high-quality products to fulfill the storage Server needs of today's world.
For sales inquiries, please contact us via email:
sales@thecus.com
For marketing inquiries, please contact us via email:
marketing@thecus.com