For sales inquiries,
please contact us at:


sales@thecus.com
For marketing inquiries, please contact us at:


marketing@thecus.com
2010-07-05
Strong performance and innovative features trounce 3 competing devices

07/05/2010 – The N4200 four-bay NAS from storage leader Thecus® Technology has taken the hardware world by storm with its innovative features and wicked performance. To see how the venerable Zero-Crash NAS would stack up against the competition, Germany's iX Magazine pitted it against three other NAS units. In the end, iX editors found a lot to like about the N4200, thanks to its wide choice of file systems, dual displays, built-in mini UPS solution, and strong data transfer performance.
iX editors were quick to point out the immense benefit of dual displays: "Most striking feature of the N4200 is the graphical OLED display, which serves as a menu and status display, and even has a built-in screen saver…The display proves useful in this particular setting, because it displays the IP address of the device and allows you to switch to DHCP."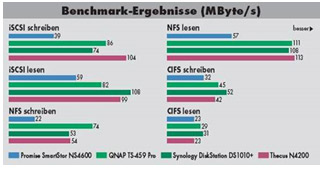 Easy to use and extremely reliable: "It can be configured with the browser make setup more convenient. Windows and Mac users can use the Thecus Setup Wizard to set up basic IP address and password. Other features of the device are the replaceable lithium-ion battery, which prevents the loss of data during a power failure, and the external power supply..."
N4200 iSCSI and NFS performance trounces all others in the roundup: "This reflected in the performance values: The iSCSI comparison is far ahead with the device writing at 104 MByte/s and reading at 99 MByte/s. The FTP throughput achieved when uploading is up to 95 MB/s, and the download reaches a maximum of 94 MByte/s. In the iozone benchmark, the NFS server when writing falls to 54 MB/s but reaches 113 MB/s when reading."
For the full review, check out the July 2010 issue of iX Magazine.
For more information on the N4200, check out:
http://www.thecus.com/products_over.php?cid=10&pid=220
---
About Thecus
®
Thecus® Technology Corp. specializes in IP Storage Server solutions, including Network Attached Storage (
NAS
) , DAS, External Storage and Wireless Media
NAS
(Bank ) products. The company was established in 2004 with the mission to make technology as transparent and easy-to-use as possible, and to make products that are not only the best on the market, but are accessible to experts and novices alike. With a best-in-class R&D team highly experienced in storage hardware and Linux software and with a keen customer focus, Thecus® stays close to the market to develop high-quality products to fulfill the storage Server needs of today's world.
For sales inquiries, please contact us via email:
sales@thecus.com
For marketing inquiries, please contact us via email:
marketing@thecus.com