For sales inquiries,
please contact us at:


sales@thecus.com
For marketing inquiries, please contact us at:


marketing@thecus.com
2010-06-23
"Bottom line, Thecus certainly has a winner here with the N4200"

06/23/2010 – When critical data needs to be stored, a sudden power failure is one of the worst things that can happen. That's why the N4200 from Thecus® Technology truly shines with its Mini UPS unit, which keeps the system working long enough to write any unwritten data to the hard disks. In their June 2010 issue, HWM Singapore Magazine took the N4200 for a spin, and decided in the end to award it their sought-after Gold Award!
With its Mini UPS unit, the N4200 is incredibly reliable: "The N4200 comes with a removable lithium-ion battery module that is installed at the rear of the N4200. The 1000mAh battery might not last very long when main power is down, accidentally or otherwise, but at least this gives you enough time to reconnect power, or to temporarily shut the NAS down. The built-in battery worked great in our testing, lasting approximately five minutes with continuous warning beeps throughout. "
The N4200 gives you plenty of options for expansion: "Connectivity options on the N4200 are aplenty, with a pair of eSATA ports as well as six USB ports handy. Both eSATA connectors as well as four of the USB ports are located at the rear, while the remaining USB ports are placed up front. Whether external printers or additional storage options, you're pretty much set up nicely."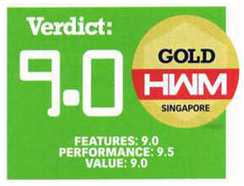 Of course, performance on the N4200 is stellar: "Performance-wise, the N4200 managed average read and write speeds of 64.79MB/s and 86.43MB/s respectively when configured in RAID 5 with a quartet of 1TB Hitachi hard disk drives; very impressive indeed..."
The conclusion from HWM: "Bottom line, Thecus certainly has a winner here with the N4200, especially with the inclusion of the built-in backup battery feature."
For the full review, check out June 2010 issue of HWM Singapore Magazine.
For more information on the N4200, check out:
http://www.thecus.com/products_over.php?cid=10&pid=220
---
About Thecus
®
Thecus® Technology Corp. specializes in IP Storage Server solutions, including Network Attached Storage (
NAS
) , DAS, External Storage and Wireless Media
NAS
(Bank ) products. The company was established in 2004 with the mission to make technology as transparent and easy-to-use as possible, and to make products that are not only the best on the market, but are accessible to experts and novices alike. With a best-in-class R&D team highly experienced in storage hardware and Linux software and with a keen customer focus, Thecus® stays close to the market to develop high-quality products to fulfill the storage Server needs of today's world.
For sales inquiries, please contact us via email:
sales@thecus.com
For marketing inquiries, please contact us via email:
marketing@thecus.com