For sales inquiries,
please contact us at:


sales@thecus.com
For marketing inquiries, please contact us at:


marketing@thecus.com
2010-06-17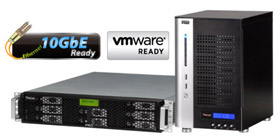 06/17/2010 - In the competitive world of business, the ability to provide critical information efficiently and effectively to the right people while controlling operating costs is the key to survival. With that, Thecus has the ideal solution. Thecus N7700+/N8800+ and N7700PRO/N8800PRO business NAS servers offer full compatibility with next-generation 10GbE NICs; furthermore, they have recently been awarded VMware Ready Certification.
Receiving the VMware Ready Certified logo means that Thecus business NAS products have passed all relevant laboratory testing and met all the integration and interoperability criteria outlined by VMware. VMware Ready Certification also means that these products are fully compatible with VMware ESX 4.0. Businesses can trust them to be reliable, secure and ready to run in a virtualized environment to carry out mission critical applications and operations.
For large businesses, bandwidth speed a key element that needs to be taken into consideration when building a virtualized infrastructure; high bandwidth speed is essential to ensure concurrent file transfers under simultaneous multiple client access. Thecus enterprise NAS servers, N7700+/N8800+ and N7700PRO/N8800PRO, have a built in PCI-e expansion slot that is compatible with next-generation 10GbE NICs, offering businesses superior data transfer speeds and quick system response.
Below are the N7700PRO 10Gb performance test results:


Test Environment

Client

NAS

CPU : 2 x QuadCore Intel Xeon E5540
RAM:12GB (DDR III - 1333)
OS : Windows 7 Professional 64Bit
2xHDD RAID0
10GbE NIC: Intel X520 SR-1

Model: Thecus N7700PRO
Firmware version : 3.02.01
HDD: 7 X HDD Seagate 320GB
10GbE NIC: Intel X520 SR-1
*The above is a in-house performance test conducted by Thecus®.
Thecus N7700+/N8800+ and N7700PRO/N8800PRO business NAS servers are packed with all the essential technologies for modern businesses. Together with 10GbE compatibility, iSCSI support and VMware Ready status, businesses have the speed and flexibility required to take full advantage of virtualization technology.
For more information on Thecus Business products, please go to:
http://www.thecus.com/index.php?set_language=english
---
About Thecus
®
Thecus® Technology Corp. specializes in IP Storage Server solutions, including Network Attached Storage (
NAS
) , DAS, External Storage and Wireless Media
NAS
(Bank ) products. The company was established in 2004 with the mission to make technology as transparent and easy-to-use as possible, and to make products that are not only the best on the market, but are accessible to experts and novices alike. With a best-in-class R&D team highly experienced in storage hardware and Linux software and with a keen customer focus, Thecus® stays close to the market to develop high-quality products to fulfill the storage Server needs of today's world.
For sales inquiries, please contact us via email:
sales@thecus.com
For marketing inquiries, please contact us via email:
marketing@thecus.com