For sales inquiries,
please contact us at:


sales@thecus.com
For marketing inquiries, please contact us at:


marketing@thecus.com
2010-06-04
04/06/2010 – Fourth day into the Computex Taipei 2010 and the excitement carries onThecus® booth (K916). Since early morning, Thecus® booth has already packed with visitors around the world anxious to get a first look on Thecus® latest innovated storage products.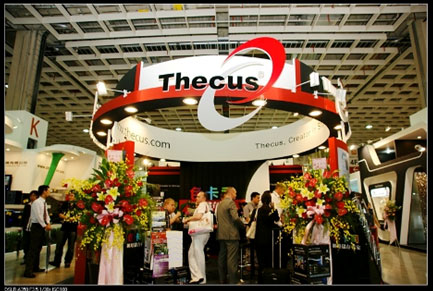 This year, Thecus® is showcasing a full lineup of powerful Cloud NAS servers specially designed to meet the needs of modem businesses. Devices like the N7700SAS and rackmount N8800SAS that can accommodate SAS hard disks, the N8800+/N8800PRO and N7700+/N7000PRO that are compatible with a next-generation 10Gb Ethernet card for incredible file transfer speed. Users who are searching for high efficiency and low maintenance business NAS servers will sure get what they need right here, at Thecus® booth.
To top it all, the brand new network video recorders (NVR) solutions are receiving great applause from visitors. Dubbed the NVR42, NVR55, NVR77, and NVR88, these state-of-the-art NVRs offer massive storage capacity, data security, and excellent compatibility with a wide range of IP cameras – perfect for a wide variety of both home and office applications. Furthermore, visitors can check out Thecus@ latest D0204 storage device and experience the power of Hi-Speed USB 3.0.
Computex 2010 will take place until the 6th of June, 2010. All visitors are welcomed to come by and joining us to have a cup of coffee. For those who can not make it to Thecus® booth this year, can go Thecus® 2010 Computex Microsite for more details on Computex 2010 and Thecus® storage products.
---
About Thecus
®
Thecus® Technology Corp. specializes in IP Storage Server solutions, including Network Attached Storage (
NAS
) , DAS, External Storage and Wireless Media
NAS
(Bank ) products. The company was established in 2004 with the mission to make technology as transparent and easy-to-use as possible, and to make products that are not only the best on the market, but are accessible to experts and novices alike. With a best-in-class R&D team highly experienced in storage hardware and Linux software and with a keen customer focus, Thecus® stays close to the market to develop high-quality products to fulfill the storage Server needs of today's world.
For sales inquiries, please contact us via email:
sales@thecus.com
For marketing inquiries, please contact us via email:
marketing@thecus.com