For sales inquiries,
please contact us at:


sales@thecus.com
For marketing inquiries, please contact us at:


marketing@thecus.com
2006-07-03
Bigger Capacity, Better Features Adorn the New Flagship Thecus NAS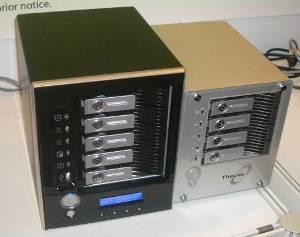 07/04/2006 – Having won Hexus' Most Innovative Product of Computex 2006, hardware media everywhere are beginning to sit up and take notice at the new ascendant to the NAS throne – the Thecus N5200. With robust features, powerful networking options, and a sleek form factor to boot, the N5200 takes the proven design of the N4100 and steps it up several notches. At Computex, the editors at The Inquirer also came by to take a look at this innovative new NAS, and were quite taken aback by the improvements over its predecessor.
Here's what the Inquirer had to say about their first encounter with the N5200: "Thecus broke cover on its newest NAS product at Computex, the N5200 NAS box. I looked at the previous N4100 a while ago, and liked it a lot, with a few minor complaints. It looks like Thecus has addressed most of these, and added a few new features to the N5200."
The increased storage capacity of the N5200 is a boon to growing enterprises that prefer a little extra expansion: "First and foremost, you can see the obvious external difference, a fifth drive slot, leading to the 5xxx number instead of the 4xxx in the older one. Guess how many drives the 2xxx and 1xxx models can fit? You may also note a status LED on the drives, and the keener among you will see that it is also notably bigger than the N4100 sitting right beside it."
For the full preview, check out: http://www.theinquirer.net/?article=32381

For more information on Thecus, go to: http://www.thecus.com/
---
About Thecus

Thecus® Technology Corp. specializes in IP Storage Server solutions. The company was established in 2004 with the mission to make technology as transparent and easy-to-use as possible, and to make products that are not only the best on the market, but are accessible to experts and novices alike. With a best-in-class R&D team highly experienced in storage hardware and software and with a keen customer focus, Thecus® stays close to the market to develop high-quality products to fulfill the storage needs of today's world.
For more information, please visit the Thecus® website at:
http://www.thecus.com/
For sales and other inquiries, please contact us via email:
sales@thecus.com