For sales inquiries,
please contact us at:


sales@thecus.com
For marketing inquiries, please contact us at:


marketing@thecus.com
2010-05-26
Strong functionality and data security receive overall rating of 8.6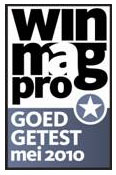 05/26/2010 – Winning a slew of awards from media worldwide, the N4200 from Thecus® Technology is proving to be one of the most popular four-bay NAS devices on the market. The editors of WINMAGPRO Magazine recently had the opportunity to check out the Zero-Crash NAS for themselves. In the end, they were really impressed with the unit, and in their May 2010 issue, awarded the N4200 with a final score of 8.6 out of 10 and their Well Tested Award to boot!
Dual displays make the N4200 really easy to use: "On the Thecus N4200, space for up to four hard drives, good for RAID 0, 1, 5, 6, 10 and JBOD, are neatly behind a door. At the front, moreover, are two (!) displays. The first shows configuration information, such as the usable space and the status of the cooling fans. The second shows the status of the disks and disk activity."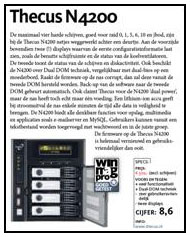 Dual DOM and Dual Power mean added security for your data: "Also available on the N4200 is Dual DOM technology, which is similar to a dual-bios on a motherboard. If the firmware on the first DOM corrupts, then the firmware from the second DOM is restored. Backup software to the second DOM is done automatically. The Thecus N4200 also comes with 'dual power', where a lithium-ion battery provides power to the NAS at all times, keeping data safe."
The N4200 can really do it all: "The N4200 offers all conceivable functions for storage, multimedia and applications such as an e-mail server and MySQL. Users from a text file can be added with the correct password and group. The firmware on the Thecus N4200 is completely redesigned and more user friendly than ever."
For the full review, check out the May 2010 issue of WINMAGPRO Magazine.
For more information on the N4200, check out: http://www.thecus.com/products_over.php?cid=10&pid=220
---
About Thecus
®
Thecus® Technology Corp. specializes in IP Storage Server solutions, including Network Attached Storage (
NAS
) , DAS, External Storage and Wireless Media
NAS
(Bank ) products. The company was established in 2004 with the mission to make technology as transparent and easy-to-use as possible, and to make products that are not only the best on the market, but are accessible to experts and novices alike. With a best-in-class R&D team highly experienced in storage hardware and Linux software and with a keen customer focus, Thecus® stays close to the market to develop high-quality products to fulfill the storage Server needs of today's world.
For sales inquiries, please contact us via email:
sales@thecus.com
For marketing inquiries, please contact us via email:
marketing@thecus.com