For sales inquiries,
please contact us at:


sales@thecus.com
For marketing inquiries, please contact us at:


marketing@thecus.com
2010-05-20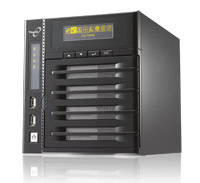 05/20/2010 - The four-bay N4200 NAS server from Thecus® has been regarded by both users and IT editors worldwide as one of the most innovative NAS devices ever created. The N4200 features a breakthrough Dual Display design and a built-in Mini-UPS, offering top class data protection and friendly administration.
Unique Dual Display Design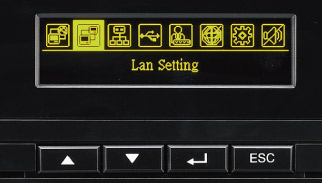 Two separate displays can be found on the front panel of the N4200. The LCD on the left has colorful icons that display system status information such as HDD,WAN/LAN and USB information, while the 2.8" 256 x 64 pixel OLED situated on the top of the N4200 features high resolution icons and lets users configure a number of system settings, including WAN/LAN IP, USB Copy and Set to Factory Default. Using the OLED is very intuitive and friendly, allowing users to find their desired options quickly and effortlessly. The OLED supports 11 languages and users can switch to the desired language on both the OLED and the Web GUI simultaneously, making N4200 the friendliest Thecus® NAS ever.
Mini-UPS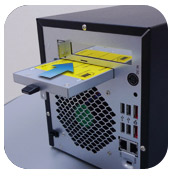 The N4200 is equipped with a special Mini-UPS, which includes a removable 1000mA/h lithium-ion battery. In the event of power failure, the battery will kick in automatically and supply the system with enough power to save all unwritten data from the file cache to the hard drives. At the same time, the N4200 will complete all other running tasks such as firmware upgrades before powering off NAS, ensuring overall data and system integrity.
Natural Award Winner
Since the release of the N4200, it is has received numerous positive reviews and awards from media publications around the world. Below are some of awards and editors' comments about the N4200:
ITPRO (UK)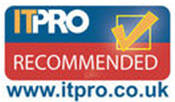 "The N4200 Zero Crash is quite unique as it currently offers the best fault tolerance for a desktop NAS appliance. It combines these with a good selection of general features so if you want the best protection for shared storage in a small business environment then this is well worth checking out."
Motherboards.org (USA)

"Overall Thecus® has done a bang-up job with the N4200 with a Battery Backup Module and Dual DOMs to prevent data loss when a failure occurs in the hardware, software or power. This is an awesome new feature and is like having a power backup without having to plug it into one. Excellent Job Thecus®, this is a great product that warrants an Editors Choice."
BITcity (ITALY)

"The ease of use and validity of the solutions introduced by this new Thecus® N4200 has us impressed. This is a compact unit that combines excellent ergonomics of use and ease of installation, a large number of functions and different communication ports that simplify the integration into different rooms."
HWM (Malaysia)
"The Thecus® N4200 definitely gets our recommendation especially for offices that deal with tons of data. With so many features and the built-in battery backup module, it'll definitely keep your data safe and accessible even during downtimes."
WinmagPRO (Holland)

"The firmware on the Thecus N4200 is completely redesigned and more user friendly than ever." Lots of functionality, Dual-DOM technology, Very user friendly and Two displays.
For more information on N4200, please go to:
http://www.thecus.com/products_over.php?cid=10&pid=220&set_language=english
---
About Thecus
®
Thecus® Technology Corp. specializes in IP Storage Server solutions, including Network Attached Storage (
NAS
) , DAS, External Storage and Wireless Media
NAS
(Bank ) products. The company was established in 2004 with the mission to make technology as transparent and easy-to-use as possible, and to make products that are not only the best on the market, but are accessible to experts and novices alike. With a best-in-class R&D team highly experienced in storage hardware and Linux software and with a keen customer focus, Thecus® stays close to the market to develop high-quality products to fulfill the storage Server needs of today's world.
For sales inquiries, please contact us via email:
sales@thecus.com
For marketing inquiries, please contact us via email:
marketing@thecus.com