For sales inquiries,
please contact us at:


sales@thecus.com
For marketing inquiries, please contact us at:


marketing@thecus.com
2006-07-03
" NAS box with nice extra features "

07/03/2006 – Since the unveiling at Computex in June, the N5200, Thecus' new flagship NAS device, has been grabbing the attention of editors all over the world for its power, versatility, and user-friendliness. German online publication Heise Online recently took a look at the N5200 and was mighty impressed with it.
Editors begin by introducing the extensive feature list of the N5200: "This year in Computex, quite a lot of HDDs-Boxes were presented--through Networking, the storage capacity can be dramatically increased. The compact Box from Thecus offers not only space for 5 SATA-II Hard Drives but also an integrated Gigabit 4 Port Switch. For wireless function, the WLAN-Dongle (802.11/bg, AP Modus) can be implemented through USB port. Further USB port is also available for USB printer—that's to say, N5200 can be used as print server too."
Software features on the N5200 are just as impressive: "An external eSATA port is designed for HDD expansion. The internal 8-port SATA controller for more Hard Drives is reserved which might be upgraded through Firmware in the future. N5200 supports RAID 0, 1, 5, 6, 10 and JBOD. Software protocol covers (Microsoft Networks CIFS/SMB, AFP, NFS, FTP, HTTP, HTTPS). The configuration can be set up through Web-Interface or any software for Windows und Mac OS X."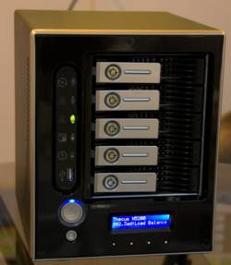 Future expansion with the N5200 is not a problem: "The especially clever design is RAID expansion. If the capacity is not enough, users can anytime build in new HDD until 5 pcs are full. It is convenient for users to increase the capacity step by step. It is also possible to replace the current HDD with bigger capacity. For security concern, write protection is required during RAID rebuild and expansion. Thecus N5200 will be available in July for MSRP about EUR900.-"

For the full review, go to:
http://www.heise.de/newsticker/meldung/74060

For more information on Thecus, go to: http://www.thecus.com/
---
About Thecus

Thecus® Technology Corp. specializes in IP Storage Server solutions, including Network Attached Storage (NAS) and Wireless Media Bank products. The company was established in 2003 with the mission to make technology as transparent and easy-to-use as possible, and to make products that are not only the best on the market, but are accessible to experts and novices alike. With a best-in-class R&D team highly experienced in storage hardware and software and with a keen customer focus, Thecus® stays close to the market to develop high-quality products to fulfill the storage needs of today's world.
For more information, please visit the Thecus® website at:
http://www.thecus.com/
For sales and other inquiries, please contact us via email:
sales@thecus.com