For sales inquiries,
please contact us at:


sales@thecus.com
For marketing inquiries, please contact us at:


marketing@thecus.com
2010-05-19
Editors tout the N7700PRO as "more than just a NAS"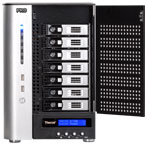 05/19/2010 – Chock-full of features and awesome performance, Thecus®' N7700PRO is the gold standard in desktop NAS devices. In their latest review, the folks over at PlanetX64 managed to get a hold of one of these storage servers for testing. Once they started digging in to this versatile and powerful NAS device, they discovered that it was indeed a fully-featured NAS offering unparalleled functionality.
The N7700PRO offers some incredible functionality: "Where to start? The unit is fully buzzword compliant and has recently been awarded VMware compatibility status. This means that VMware's Hypervisor can reliably recognize the N7700PRO as a storage device and even boot virtual machines from mounted iSCSI images. Supported clients can be any combination of Windows, Mac, or Linux/Unix. The N7700PRO has Thecus' Dual DOM architecture which means if the primary DOM gets messed up during an update, you can boot from a secondary DOM and reset the primary…The unit is managed via a browser-based UI that is clean, well-designed and easy-to-use."
Multiple file system support means added flexibility: "During setup you are offered a staggering variety of file systems (EXT3, XFS, & ZFS) to choose from. Most notable among them is ZFS, a 128-bit journaling file system designed and built by Sun Microsystems which packs upper storage limits so ridiculously large, you would have to use every atom in the Earth's crust to fill it...By creating ZFS volumes you can enable Snapshot version control for the ultimate in data redundancy.
The N7700PRO also delivers some wicked performance: "In a nutshell, the N7700PRO is FAST. I only had it configured with one GbE port and was able to back up my entire Windows Home Server (3.5 TB of data) via a Thermaltake BlackX USB drive toaster over the network in a matter of three days...In regular operation, I saw a noticeable improvement in my photographic workflow which includes saving a copy of all of my RAW image files to the NAS at ingestion."
For the full review, check out:
http://www.planetx64.com/index.php/2010/05/thecus-n7700-pro-more-than-just-a-nas#more-2687
For more information on the N7700PRO, check out:
http://www.thecus.com/products_over.php?cid=10&pid=220
---
About Thecus
®
Thecus® Technology Corp. specializes in IP Storage Server solutions, including Network Attached Storage (
NAS
) , DAS, External Storage and Wireless Media
NAS
(Bank ) products. The company was established in 2004 with the mission to make technology as transparent and easy-to-use as possible, and to make products that are not only the best on the market, but are accessible to experts and novices alike. With a best-in-class R&D team highly experienced in storage hardware and Linux software and with a keen customer focus, Thecus® stays close to the market to develop high-quality products to fulfill the storage Server needs of today's world.
For sales inquiries, please contact us via email:
sales@thecus.com
For marketing inquiries, please contact us via email:
marketing@thecus.com