For sales inquiries,
please contact us at:


sales@thecus.com
For marketing inquiries, please contact us at:


marketing@thecus.com
2010-05-17
Four-bay zero-crash NAS server receives a 92% overall rating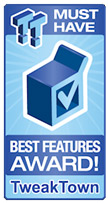 05/17/2010 – With its innovative battery backup module, dual displays, and Dual DOM design, the Thecus® N4200 is winning accolades from media all over the world. The latest review comes from the editors of TweakTown who took a very close look at it. After a series of tests, TweakTown found a lot to like about the Zero-Crash NAS, awarding it their Best Features Award and a final overall score of 92%!
The integrated battery backup module can really save your bacon: "Let's say you have a NAS appliance that you and your wife share. At some point the NAS is switched over to RAID 0 and you forget about it and your wife has been storing pictures; five years of pictures on this NAS. One day the power goes out causing an aging HDD to have a non-recoverable error, effectively eliminating the array…A battery backup, or in the case of the Thecus N4200, a built-in battery backup module would have saved the day when the power went out and not caused the drive to have a panic moment."
Performance-wise, the N4200 is a champ: "Here we see that the N4200 is faster than the QNAP TS-419P in all but the single drive, JBOD category…When recording HD video, the Thecus N4200 is able to handle more streams than the QNAP TS-419P and in some configurations by a significant margin. In these tests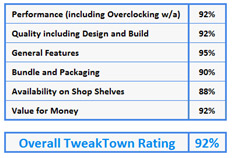 we see that the Thecus N4200 is capable of near attached storage speeds when moving large files. This is important since in the office time is money and if your employee has to wait for a file to be delivered, you still have to pay even during their idle time. "
The TweakTown verdict: "At first glance the Thecus N4200 might appear to be just an upgrade to a nicer setup display, but once you start peeling back the layers you find that this NAS appliance is more than just a pretty face. The addition of a battery backup module in my mind will be much more beneficial in the long run, giving users peace of mind, all the time."
For the full review, check out:
http://www.tweaktown.com/reviews/3264/thecus_n4200_4_bay_nas_server/index.html
For more information on the N4200, check out:
http://www.thecus.com/products_over.php?cid=10&pid=220
---
About Thecus
®
Thecus® Technology Corp. specializes in IP Storage Server solutions, including Network Attached Storage (
NAS
) , DAS, External Storage and Wireless Media
NAS
(Bank ) products. The company was established in 2004 with the mission to make technology as transparent and easy-to-use as possible, and to make products that are not only the best on the market, but are accessible to experts and novices alike. With a best-in-class R&D team highly experienced in storage hardware and Linux software and with a keen customer focus, Thecus® stays close to the market to develop high-quality products to fulfill the storage Server needs of today's world.
For sales inquiries, please contact us via email:
sales@thecus.com
For marketing inquiries, please contact us via email:
marketing@thecus.com