For sales inquiries,
please contact us at:


sales@thecus.com
For marketing inquiries, please contact us at:


marketing@thecus.com
2010-05-06
05/06/2010 - The digital era has arrived, in people's everyday life, whether it is your favorite music, memorable photos or movies, most of them are now stored as digital files. As these files continue to increase in both size and number, home users will eventually need a device to help them centralize and manage these files. For that, Thecus® NAS products provide massive storage capacity and abundant features, making them the most ideal network storage solutions currently on the market.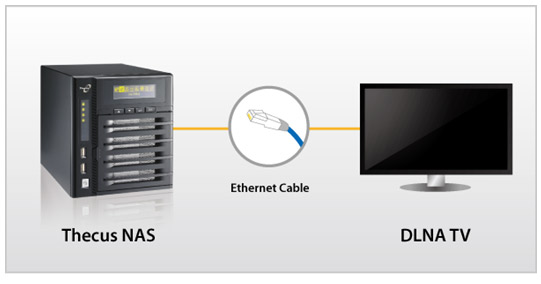 Thecus® NAS products can not only assist home users to store and protect their digital files, but with their built in TwonkyMedia™ Server, they can also turn into a home multimedia centre. Users can simply connect to their Thecus® NAS with a DLNA-Certified or UPnP DMA (Digital Media Adaptor). With no PC required and no complicated setup, Thecus® users can instantly stream multimedia contents from their Thecus® NAS and play them on their TVs. As home entertainment technology advances, many television manufacturers have already integrated DMA technology into televisions, allowing users to connect to their Thecus® NAS directly with their TV through an Ethernet cable and use a remote control to select and play their favorite multimedia content on their TV screen. With Thecus® NAS units, friends and family can enjoy music, photos and movies right in the comfort of their living room.
Using Thecus® NAS to manage multimedia files has never easer. The built in TwonkyMedia™ Server supports a variety of multimedia formats and offers a friendly user interface. Users have the option to select different types of navigation trees according to the size of their media contents, assisting users to view and manage their multimedia files more conveniently and efficiently.
The award winning TwonkyMedia™ Server is now supported on most Thecus® NAS products. Own one today and enjoy the ultimate home entertainment experience with Thecus® NAS.
*The TwonkyMedia™ Server module is now available on N3200, N0503 ComboNAS, N4200, N4100PRO, N5500, N7700 series and N8800 series.
For more information on TwonkyMedia™ Server, please go to:
http://www.twonkymedia.com
---
About Thecus
®
Thecus® Technology Corp. specializes in IP Storage Server solutions, including Network Attached Storage (
NAS
) , DAS, External Storage and Wireless Media
NAS
(Bank ) products. The company was established in 2004 with the mission to make technology as transparent and easy-to-use as possible, and to make products that are not only the best on the market, but are accessible to experts and novices alike. With a best-in-class R&D team highly experienced in storage hardware and Linux software and with a keen customer focus, Thecus® stays close to the market to develop high-quality products to fulfill the storage Server needs of today's world.
For sales inquiries, please contact us via email:
sales@thecus.com
For marketing inquiries, please contact us via email:
marketing@thecus.com