For sales inquiries,
please contact us at:


sales@thecus.com
For marketing inquiries, please contact us at:


marketing@thecus.com
2010-04-30
"It currently offers the best fault tolerance for a desktop NAS appliance"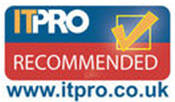 04/30/2010 – There are a plethora of NAS units out there, so which one do you choose? If data protection is your top priority, the zero-crash N4200 from storage leader Thecus® Technology, with its built in BBM and Dual DOM, is your best bet. The editors of IT PRO recently tested the N4200, and after subjecting it to a gauntlet of tests, found a lot to like. In the end, they awarded it a final score of 5 out of 6 stars, earning the N4200 their prestigious IT PRO Recommended Award!
The N4200 accomplishes zero-crash with a built-in battery backup module: "Thecus' latest four-bay small business NAS appliance takes reliability to the next level as the N4200 Zero Crash is the first desktop box to integrate power fault tolerance. Primary power is handled by a standard external supply but Thecus has implemented a battery backup module (BBM) designed to keep your RAID array, outstanding disk writes and firmware upgrade maneuvers intact in the event of a blackout."
The N4200 is also decked out with some impressive hardware: "There's a lot more to this compact four-bay desktop unit as it sports Intel's latest Dual Core Atom D510 processor and also features Thecus' unique dual DOM (Disk on Module). This comprises a pair of 128MB IDE micro disk modules stacked on top of each other with the lower one plugged directly into the motherboard IDE interface. If the primary DOM fails, the secondary provides a backup for the OS so improving fault tolerance."
The conclusion from IT PRO: "The N4200 Zero Crash is quite unique as it currently offers the best fault tolerance for a desktop NAS appliance. It combines these with a good selection of general features so if you want the best protection for shared storage in a small business environment then this is well worth checking out."
For the full review, check out:
http://www.itpro.co.uk/622258/thecus-n4200-zero-crash-review
For more information on the N4200, check out:
http://www.thecus.com/products_over.php?cid=10&pid=220
---
About Thecus
®
Thecus® Technology Corp. specializes in IP Storage Server solutions, including Network Attached Storage (
NAS
) , DAS, External Storage and Wireless Media
NAS
(Bank ) products. The company was established in 2004 with the mission to make technology as transparent and easy-to-use as possible, and to make products that are not only the best on the market, but are accessible to experts and novices alike. With a best-in-class R&D team highly experienced in storage hardware and Linux software and with a keen customer focus, Thecus® stays close to the market to develop high-quality products to fulfill the storage Server needs of today's world.
For sales inquiries, please contact us via email:
sales@thecus.com
For marketing inquiries, please contact us via email:
marketing@thecus.com