For sales inquiries,
please contact us at:


sales@thecus.com
For marketing inquiries, please contact us at:


marketing@thecus.com
2010-04-28
"Can store tons of data and comes packed with features"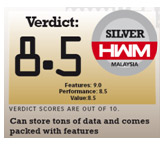 04/28/2010 – Life is unpredictable; you never know when a sudden power outage is going to ruin your day – and your data! With this in mind, the Thecus® N4200, with its built-in battery backup module, is a godsend. In their April 2010 issue, HWM Malaysia Magazine had the chance to put one of these four-bay units to the test, and once they were through with it, walked away very impressed. In fact, HWM Magazine gave the N4200 a final rating of 8.5 out of 10 and their prestigious HWM Silver Award!
HWM editors start their review with a short introduction to the N4200: "Network Attached Storage (NAS) are great especially since we get to back up all our important work documents and precious media files on it. But one of the downsides of NAS is that when there's shortage of electricity, we won't be able to retrieve our files even if we used a laptop. So to solve this problem and provide extra storage for offices, Thecus offers its N4200 Zero-Crash with Dual Power NAS."
But the N4200 offers a lot more than just storage: "Other than just using the N4200 to back up and store your files, it has a myriad of other features that makes it more worthwhile. It supports HTTP, FTP, BitTorrent and eMule which makes it perfect as a download station although it would have been better if it also supported RapidShare and RSS. If an office needs a print server, the N4200 will be great for the job as it supports USB and IPP printers. Those features barely scratch the surface of the N4200 as it supports multimedia, iSCSI and tons more features waiting to be discovered."
So what was the final word? "…the Thecus N4200 definitely gets our recommendation especially for offices that deal with tons of data. With so many features and the built-in battery backup module, it'll definitely keep your data safe and accessible even during downtimes."
For the full review, check out the April 2010 issue of HWM Malaysia Magazine.
For more information on the N4200, check out:
http://www.thecus.com/products_over.php?cid=10&pid=220
---
About Thecus
®
Thecus® Technology Corp. specializes in IP Storage Server solutions, including Network Attached Storage (
NAS
) , DAS, External Storage and Wireless Media
NAS
(Bank ) products. The company was established in 2004 with the mission to make technology as transparent and easy-to-use as possible, and to make products that are not only the best on the market, but are accessible to experts and novices alike. With a best-in-class R&D team highly experienced in storage hardware and Linux software and with a keen customer focus, Thecus® stays close to the market to develop high-quality products to fulfill the storage Server needs of today's world.
For sales inquiries, please contact us via email:
sales@thecus.com
For marketing inquiries, please contact us via email:
marketing@thecus.com