For sales inquiries,
please contact us at:


sales@thecus.com
For marketing inquiries, please contact us at:


marketing@thecus.com
2006-06-21
Thecus's flagship storage solution impresses Hexus at Computex 2006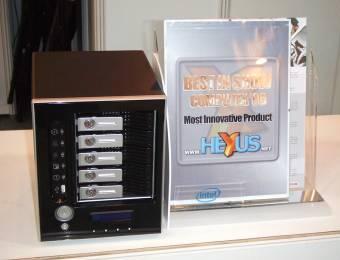 6/19/2006- No stranger to innovation, Thecus Technology has developed numerous 'world firsts' in the world of digital storage. From the world's first eSATA on DAS with the N2050, to the iTunes-enabled YES Box N2100, Thecus' list of ground-breaking products continues to lengthen. This past Computex, hardware website Hexus added to Thecus' list of accolades by naming the N5200 NAS device the Most Innovative Product of Computex 2006!
Despite its small 230mm x 190mm x 230mm dimensions, the N5200 packs a lot of punch. Under the hood lies an Intel® Celeron M processor running at 600MHz and 256MB of DDR memory for powerful data-processing capabilities. The N5200 has the capacity for five 3.5" SATA hard disks for up to 3TB of storage! To keep data secure, the N5200 features multiple RAID modes, including RAID 0, 1, 5, 6, 10 and JBOD. Managing your RAID array is easy with the N5200's built-in RAID management features, including auto rebuild, hot swap, hot spare, disk roaming, and more. To backup your data, the N5200 comes with the Thecus Backup Application, as well as a feature called Nsync. With Nsync, users can have the N5200 automatically upload files to an external storage device via FTP at a designated time. What's more, if the external device is another N4100, the connection is made via a secure connection. Designed for SMBs to enhance data security, Nsync takes the guesswork out of data backup.
With an intuitive multilingual web-based interface and Windows, Apple OS X, and Linux compatibility, file sharing between networked PCs with the N5200 is more convenient than ever. A speedy eSATA connector is included for future external expansion possibilities. Part of Thecus' innovative RouStor™ series, the N5200 includes a Gigabit Ethernet port and a 4-port Gigabit switch for excellent connectivity options. Users can even install a USB 802.11 b/g dongle for Wi-Fi capability , N5200 supports 3 USB ports , 1 front, 2 back Print Server , FTP , WebDisk ,Windows Active Directory support….etc.
For more information on Thecus, go to:http://www.thecus.com/
---
About Thecus
Thecus® Technology Corp. specializes in IP Storage Server solutions. The company was established in 2004 with the mission to make technology as transparent and easy-to-use as possible, and to make products that are not only the best on the market, but are accessible to experts and novices alike. With a best-in-class R&D team highly experienced in storage hardware and software and with a keen customer focus, Thecus® stays close to the market to develop high-quality products to fulfill the storage needs of today's world.
For more information, please visit the Thecus® website at: http://www.thecus.com/
For sales and other inquiries, please contact us via email: sales@thecus.com