For sales inquiries,
please contact us at:


sales@thecus.com
For marketing inquiries, please contact us at:


marketing@thecus.com
2010-04-21
Small Net Builder Reviews the Thecus® N7700PRO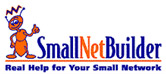 04/21/2010 – For enterprise users, the speed and performance of Thecus® NAS servers mean increased efficiency and smoother operation. Small Net Builder recently tested the N7700PRO and found out that it certainly follows the same tradition of high-performance, easily topping their performance charts. In fact, Thecus® NAS servers, including the N7700PRO, N7700, and N5500, take spots 1, 5, and 6 respectively!
The N7700PRO is unbeatable when it comes to performance: "Lest you think that the N7700PRO can't really deliver the goods in the speed department, just take a look at the Vista SP1 file copy results in Figure 8. This test is more of a real-world representation of the performance you'll get with Vista and Win 7, assuming that you have a fast enough client. The N7700PRO beats everything else on the chart by over 10 MB/s with a chart-topping 102.4 MB/s. RAID 5 filecopy read also has the PRO at the top with 101 MB/s. RAID 10 is even a bit better, coming in at 106.2 MB/s for write and 103 for read! Finally, iSCSI target read and write were tested using a RAID 10 volume and yielded 95.9 MB/s for write and 91.8 for read, earning the PRO top chart spot for write and third place for read."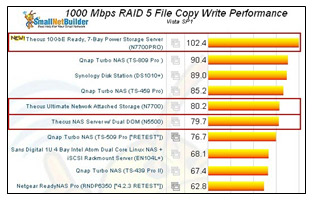 Not only is performance top-notch, but the N7700PRO is also a terrific value: "The N7700PRO is after the server-replacement market that QNAP is pursuing with its TS-8XX series, Synology with its DS1010+ and DX510 Expansion Chassis and NETGEAR with its ReadyNAS 3200 and 4200…But the N7700PRO outperforms the Synology for file copy duties and writes to it as an iSCSI target, and essentially ties it for iSCSI reads. So the PRO looks like a more cost-effective way to go than the DS1010+ and DX510 expansion chassis combo, if you want a lot of storage in a relatively compact desktop package."
For the full review, check out:
http://www.smallnetbuilder.com/nas/nas-reviews/31120-thecus-n7700pro-reviewed
For more information on the N7700PRO, check out: http://www.thecus.com/products_over.php?cid=10&pid=220
---
About Thecus
®
Thecus® Technology Corp. specializes in IP Storage Server solutions, including Network Attached Storage (
NAS
) , DAS, External Storage and Wireless Media
NAS
(Bank ) products. The company was established in 2004 with the mission to make technology as transparent and easy-to-use as possible, and to make products that are not only the best on the market, but are accessible to experts and novices alike. With a best-in-class R&D team highly experienced in storage hardware and Linux software and with a keen customer focus, Thecus® stays close to the market to develop high-quality products to fulfill the storage Server needs of today's world.
For sales inquiries, please contact us via email:
sales@thecus.com
For marketing inquiries, please contact us via email:
marketing@thecus.com