For sales inquiries,
please contact us at:


sales@thecus.com
For marketing inquiries, please contact us at:


marketing@thecus.com
2010-04-16
04/16/2010 - The DLM2 (Download Manager V2) has always been one of the most praised features of Thecus® NAS devices. DLM2, users have the option to download files from the Internet using BT, Emule or HTTP/FTP programs. There are also many other benefits when downloading files from the Internet using a Thecus® NAS.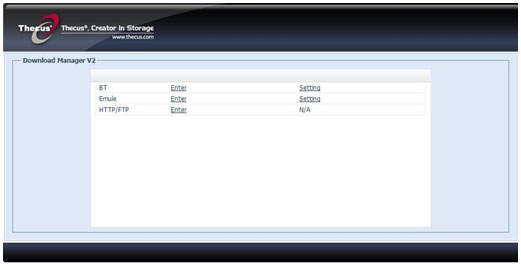 Data Protection
Files downloaded from the Internet are stored directly in Thecus® NAS, meaning that these files will also be perfectly secured under the protection of a RAID array. Users can rest assured when leaving their precious downloaded files in the hands of their Thecus® NAS.
Convenient Multimedia Playback
Using a Thecus® NAS to stream downloaded multimedia files has never been easier. With the built-in media server, simply plug in a DMA (Digital Media Adaptor) or any other DLNA/UPnP supported device and instantly stream multimedia content from the Thecus® NAS to enjoy them on your TV, right from the comfort of your living room.
Save Time, Save Energy
Thecus® NAS devices require much less energy to operate compared to standard desktop PCs. Once the download tasks have been successfully added and executed, users can switch off their PC and let their Thecus® NAS complete the rest, saving a great deal of time and money.
The DLM2 module is currently available at the Thecus Download Centre, and the DLM2 Quick User Guide is also available to show users how to perform download tasks and the various settings of the download utilities supported in DLM2.
---
About Thecus
®
Thecus® Technology Corp. specializes in IP Storage Server solutions, including Network Attached Storage (
NAS
) , DAS, External Storage and Wireless Media
NAS
(Bank ) products. The company was established in 2004 with the mission to make technology as transparent and easy-to-use as possible, and to make products that are not only the best on the market, but are accessible to experts and novices alike. With a best-in-class R&D team highly experienced in storage hardware and Linux software and with a keen customer focus, Thecus® stays close to the market to develop high-quality products to fulfill the storage Server needs of today's world.
For sales inquiries, please contact us via email:
sales@thecus.com
For marketing inquiries, please contact us via email:
marketing@thecus.com