For sales inquiries,
please contact us at:


sales@thecus.com
For marketing inquiries, please contact us at:


marketing@thecus.com
2010-03-25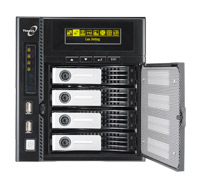 03/25/2010 -Thecus®, the leader in storage solutions and a member of the VMware® Technology Alliance Partner program, has always focused on providing business users with advanced and innovative storage solutions.Now, Thecus® is ready to bring more good news by announcing that its NAS servers, the N4200、N7700+/PRO/SAS and N8800+/PRO/SAS, are now officially VMware® Ready certified.
Receiving the VMware® Ready certified logo means that these Thecus® NAS products have passed all relevant laboratory testing and met all the integration and interoperability criteria outlined by VMware®. VMware® Ready certification also means that these products are fully compatible with VMware® ESX 4.0 and are ready to run in a production environment to carry out mission critical business applications and operations.
Besides VMware® support, Thecus® enterprise NAS servers are packed with all the essential technologies for modern businesses. Together with 10GbE or SAS HDD support, businesses have the speed and technology required to create a storage network that is able to efficiently and effectively manage their data, enabling them to provide timely services to their customers.
Users can now find these products listed on the VMware® Compatibility Guide.
For more information on Thecus® products, please go to:
http://www.thecus.com/products_over.php?cid=11&pid=198
For more information on VMware®, please go to:
http://www.vmware.com/
---