For sales inquiries,
please contact us at:


sales@thecus.com
For marketing inquiries, please contact us at:


marketing@thecus.com
2010-04-05
Two different home NAS devices for all kinds of home users
04/05/2010 – Storage leader Thecus® Technology features a complete lineup of NAS units for the home user. Those with basic network storage needs can look towards the extremely friendly and affordable two-bay N2200, while those who need the ultimate in flexibility and even more storage can choose the N0503 ComboNAS. In their January 2010 issue, Hardware Info had the opportunity to take a look at both of these devices, and at the end of the day, they were impressed with both!
Users on a budget will love the capacity and friendly features of the N2200: "Looking for a NAS? But you do not want to spend a lot of money? Then the Thecus N2200 is a good choice. For about €150,- you'll have a pretty decent and complete NAS in your hands with a lot of possibilities and a reasonable performance. OK, there are faster, more user friendly and models with more features available, but for this budget this NAS is a very good choice."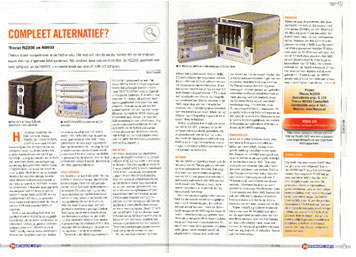 For those who need a little more flexibility, the N0503, with its specially-designed combo drive bays, fits the bill nicely: "The N0503 ComboNAS is a special product. The advantage is that it is pretty small, has good performance and the option to install either 3 x 3.5" or 5 x 2.5" HDD's. The price is remarkable cheaper than its competitors..."
For the full review, check out the January 2010 issue of Hardware Info Magazine.
For more information on the N2200, check out: http://www.thecus.com/products_over.php?cid=12&pid=178
For more information on the N0503, check out: http://www.thecus.com/products_over.php?cid=12&pid=179
---
About Thecus
®
Thecus® Technology Corp. specializes in IP Storage Server solutions, including Network Attached Storage (
NAS
) , DAS, External Storage and Wireless Media
NAS
(Bank ) products. The company was established in 2004 with the mission to make technology as transparent and easy-to-use as possible, and to make products that are not only the best on the market, but are accessible to experts and novices alike. With a best-in-class R&D team highly experienced in storage hardware and Linux software and with a keen customer focus, Thecus® stays close to the market to develop high-quality products to fulfill the storage Server needs of today's world.
For sales inquiries, please contact us via email:
sales@thecus.com
For marketing inquiries, please contact us via email:
marketing@thecus.com