For sales inquiries,
please contact us at:


sales@thecus.com
For marketing inquiries, please contact us at:


marketing@thecus.com
2010-04-01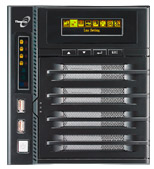 04/01/2010 - NAS devices have been widely deployed today in both home and small businesses to carry out various tasks. One of the main advantages of having a NAS device is that it offers an abundance of data protection and security features like RAID, AES 256 encryption, user access control and remote replication. However, even with all these advanced features in place, there is still one external factor that could spell trouble for your NAS, and that is the improper shut down of your NAS caused by unexpected power failures.
In home and small businesses environments where no dedicated UPS devices are deployed, a power outage or interruption (if someone accidentally kicks a power cord or switches off the main power for example), could cause the NAS to shut down improperly and put your data and system at risk. These days, the amount of system memory inside NAS devices is getting bigger, resulting large amounts of data being stored in the system's file cache. When a NAS device shuts down improperly, the user can lose all the data stored inside the file cache. Besides losing precious data, the system may also be at risk if the power failure takes place during system firmware upgrade.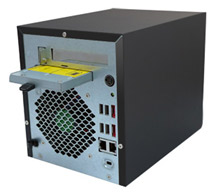 To minimize the risk of data and system damage caused by sudden power failures, storage expert Thecus® has come up with a unique Battery Backup (BBM) technology, which includes a removable 1000mA/h lithium-ion battery that can be placed inside a NAS device. In the event of power failure, the battery will kick in automatically and supply the system enough power to save all unwritten data from the file cache to the hard drives, and at the same time, complete all other running tasks such as firmware upgrades before powering off NAS, ensuring overall data and system integrity.
The exclusive Battery Backup Module (BBM) design is currently implemented on Thecus® N4200 NAS device. Powered by the high performance Intel® Atom™ D510 Dual Core processor and 1GB of DDR2 RAM, the N4200 delivers superior system response and data throughput. Equipped with Thecus® BBM technology, Thecus® N4200 is definitely the most reliable home and SMB NAS device on the market.
For more information on N4200, please go to:
http://www.thecus.com/products_over.php?cid=10&pid=220&set_language=english
---
About Thecus
®
Thecus® Technology Corp. specializes in IP Storage Server solutions, including Network Attached Storage (
NAS
) , DAS, External Storage and Wireless Media
NAS
(Bank ) products. The company was established in 2004 with the mission to make technology as transparent and easy-to-use as possible, and to make products that are not only the best on the market, but are accessible to experts and novices alike. With a best-in-class R&D team highly experienced in storage hardware and Linux software and with a keen customer focus, Thecus® stays close to the market to develop high-quality products to fulfill the storage Server needs of today's world.
For sales inquiries, please contact us via email:
sales@thecus.com
For marketing inquiries, please contact us via email:
marketing@thecus.com