For sales inquiries,
please contact us at:


sales@thecus.com
For marketing inquiries, please contact us at:


marketing@thecus.com
2010-03-26
"A robust seven-bay NAS with excellent expansion capabilities"

03/26/2010 – With its stackable feature and free PCI-E expansion slot, the N7700PRO from storage leader Thecus® Technology shatters what people have come to expect from desktop NAS devices. The latest review comes from HWM Malaysia Magazine, and after closely examining the seven-bay unit, HWM was thoroughly impressed with its features, expansion possibilities, and overall performance. In fact, HWM Malaysia gave the N7700 a final score of 9.0 out of 10 and their distinguished HWM Gold Award!
Editors kick things off with a short introduction to Thecus® and the N7700PRO: "Thecus is fast becoming the innovator in the Network Accessed Storage (NAS) device segment. The first to introduce Dual DOM, three-bay NAS for extra RAID capabilities and PCI-e expansion slots, it was only a matter of time before Thecus innovated again. This time around it's the Thecus N7700PRO, a NAS device that not only offers seven hard disk drive bays but also adds on stackable capabilities along with a PCI-e expansion feature."
The N7700PRO packs some serious hardware: "Seven 3.5" hard disk drive bays means that this NAS can handle up to 14TB of storage space along with support for RAID 0, 1, 5, 6, 10 and JBOD as well as auto-rebuild and hotswap. There is also a free PCI-e slot so you can install a faster Ethernet card, wireless Ethernet card and so forth. The NAS also has four USB ports, two RJ-45 Ethernet LAN ports and one eSATA port so you can expand storage by adding USB or eSATA based external hard disk drives. Another way to expand storage further is to add another N7700PRO NAS for up to five stackable N7700PRO NAS units, all of which can be controlled from a single unit."
Strong performance and easy to use as well: "Performance is top-notch with very responsive controls and fast transfer speeds. Transferring 4.5GB of data took approximately six minutes only while setting up user group and permissions was as simple as pie."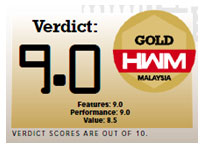 The HWM Verdict: "While there are other features like an iTunes server, Web Photo server and media server, the main value to the N7700PRO is its robustness and ability to expand both, in terms of storage capacity as well as other features. This makes the Thecus N7700PRO NAS device ideal for the midrange SMB or enterprise level business as its ability to expand and failover capabilities will ensure that businesses get reliable performance throughout."
For the full review, check out the March 2010 issue of HWM Malaysia Magazine.
For more information on the N7700PRO, check out:
http://www.thecus.com/products_over.php?cid=11&pid=198
---
About Thecus
®
Thecus® Technology Corp. specializes in IP Storage Server solutions, including Network Attached Storage (
NAS
) , DAS, External Storage and Wireless Media
NAS
(Bank ) products. The company was established in 2004 with the mission to make technology as transparent and easy-to-use as possible, and to make products that are not only the best on the market, but are accessible to experts and novices alike. With a best-in-class R&D team highly experienced in storage hardware and Linux software and with a keen customer focus, Thecus® stays close to the market to develop high-quality products to fulfill the storage Server needs of today's world.
For sales inquiries, please contact us via email:
sales@thecus.com
For marketing inquiries, please contact us via email:
marketing@thecus.com