For sales inquiries,
please contact us at:


sales@thecus.com
For marketing inquiries, please contact us at:


marketing@thecus.com
2006-06-13
All shipments to meet RoHS specifications by June 23, 2006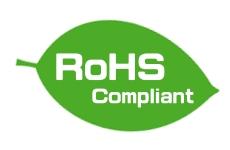 6/14/2006 – In February 2003, the European Union adopted the Restriction of Hazardous Substances Directive. This directive, known around the world as RoHS, restricts the use of six hazardous materials used during the manufacturing process of certain electrical and electronic equipment. In a continuing effort to protect the environment from hazardous materials, Thecus Technology is proud to announce that it is officially RoHS approved, and has received a certificate of compliance that guarantees that all of its products shipped into the EU meet RoHS standards.
RoHS standards restrict the use of the following substances:
By maintaining strict quality control standards and refining the manufacturing process, users around the world can not only enjoy the innovation and performance of Thecus products, but also rest assured that all Thecus products meet all RoHS specifications and standards for responsible manufacturing.
"At Thecus, we are committed to ensuring that our manufacturing processes are absolutely second-to-none," notes Edwin Lin, Thecus CEO. "By meeting RoHS specifications, our customers can by Thecus products with complete confidence, knowing that our goods are not adversely affecting the environment."
For more information on Thecus, go to: http://www.thecus.com/
---
About Thecus
Thecus® Technology Corp. specializes in IP Storage Server solutions. The company was established in 2004 with the mission to make technology as transparent and easy-to-use as possible, and to make products that are not only the best on the market, but are accessible to experts and novices alike. With a best-in-class R&D team highly experienced in storage hardware and software and with a keen customer focus, Thecus® stays close to the market to develop high-quality products to fulfill the storage needs of today's world.
For more information, please visit the Thecus® website at: http://www.thecus.com
For sales and other inquiries, please contact us via email: sales@thecus.com