For sales inquiries,
please contact us at:


sales@thecus.com
For marketing inquiries, please contact us at:


marketing@thecus.com
2017-07-13
Allow Thecus to put your organizational data to work
07/13/2017-
While IT departments are trying to control their IT budgets, the need to work with increasing amounts of data and user demands for quick storage access is rising. Often legacy storage systems are ill-equipped to face the I/O demands of a virtual infrastructure, with issues arising from of the write intensive nature of boot-up and login storms. All-flash arrays are able to address these performance challenges but do come with a higher price tag. When does the performance outweigh the cost? When time is money!
VDI Boot Performance
When a significant number of virtual machines boot up or login within a narrow time frame, a demand for heavy IOPS from the backend occurs, which will overwhelm a network with data requests. Unlike conventional storage, all-flash arrays deliver ultra-high random IOPS and ultra-low latency, eliminating all-at-once access problems .
Example 1 :
In a large virtual desktop environment where 500 computers boot up simultaneously on conventional hard drive basis it would on average take 15 minutes but an AFA reduces this to just 3 minutes.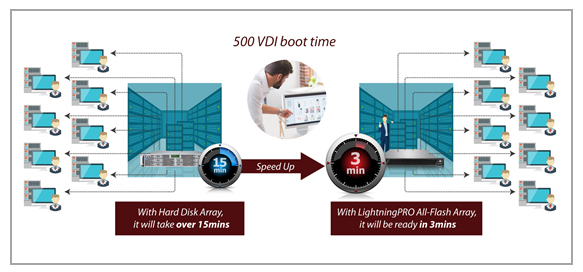 Faster Transactional Performance.
For many database applications—from high-frequency trading to real-time risk management—microseconds translate to opportunities created or opportunities lost. The speed of a systems IOPS is critical to database performance, introduction of an all-flash array will minimize I/O latency and accelerate transactional performance.
Example 2 :
A government agency which needed to access a database of hundreds of millions of database entries, when using a conventional hard drive basis had a response time of 30 minutes. With the introduction of AFA it was reduced to just 10 seconds.
An all-flash array solution allows for massive improvements in processing performance, deliver long term storage performance to the VDI environment. When deciding on All-Flash arrays, the higher the IOPS the better the storage system's overall performance. Thecus' LightningPro All-Flash Array series offer over 700,000 IOPS in 4KB random writes.
For more information about the LightningPRO SE300, go to:
http://www.thecus.com/product.php?PROD_ID=138
For more information about the LightningPRO SC180, go to:
http://www.thecus.com/product.php?PROD_ID=139
For more information on where to buy this product, please go to:
http://www.thecus.com/wtb.php
---
About Thecus®
Established in 2004, Thecus Technology Corp provides market leading network attached storage and network video recorder solutions, committed to revolutionize how everyone from home user to enterprise level business centrally stores, manages and accesses their digital data both onsite and cloud-based. Thecus strives to deliver continuous innovation through cutting edge technology and design to provide data storage with the most customer-friendly platform, rapid performance and robust security. In May 2016, Thecus was formally acquired by Ennoconn Corporation and thus became part of the Foxconn IPC Technology group. Partnered together this diverse group of companies work in tandem to provide a total IoT (Internet of Things) solution. Now with an unparalleled portfolio to work with, Thecus is collaborating to bring unprecedented change to the network storage industry.