For sales inquiries,
please contact us at:


sales@thecus.com
For marketing inquiries, please contact us at:


marketing@thecus.com
2006-06-12
Innovative and powerful digital storage solutions steal the show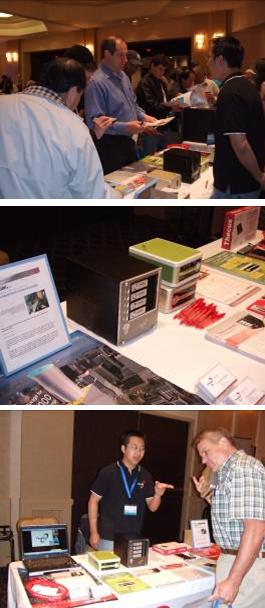 06/12/2006 – Specifically designed to educate Intel Product Dealers (IPDs) on the latest Intel product launches, technology announcements, and program benefits, the Intel Channel Conference (ICC) attracts thousands of IPDs in multiple cities across the United States and Canada, and over 450 ICC events are held around the world. On May 19th in Newark, dealers and vendors clamored to check out the latest innovations in digital storage from Thecus Technology, a global leader of digital storage solutions. Designed with complete ease-of-use and robust features, Thecus Technology stole the show with its flexible storage products, including the business-oriented N4100 NAS device.
Based on Intel's I/O processor architecture, the N4100 is designed to offer larger storage space, better data security, higher data access throughput, but with lower power consumption. The N4100 can operate as a secure file server, enabling you to distribute your data in a secure fashion. Four SATA drive bays offer excellent expandability, while dual Gigabit Ethernet ports high data throughput enterprise users need. What's more, with the introduction of 750GB hard drives, the N4100 now supports up to a whopping 3TB of storage! With enhanced capacity, the N4100 more than enough room to grow with your business.
For more information on the N4100, go to:
http://www.thecus.com/products_over.php?cid=1&pid=2&PHPSESSID=8508104428497afacae8c609ef23da9d
For more information on the Intel Channel Conference, go to:
http://intel.seminars.net/iccna/
For more information on Thecus, go to:
http://www.thecus.com/
---
About Thecus
Thecus® Technology Corp. specializes in IP Storage Server solutions. The company was established in 2004 with the mission to make technology as transparent and easy-to-use as possible, and to make products that are not only the best on the market, but are accessible to experts and novices alike. With a best-in-class R&D team highly experienced in storage hardware and software and with a keen customer focus, Thecus® stays close to the market to develop high-quality products to fulfill the storage needs of today's world.
For more information, please visit the Thecus® website at:
http://www.thecus.com/
For sales and other inquiries, please contact us via email:
sales@thecus.com