For sales inquiries,
please contact us at:


sales@thecus.com
For marketing inquiries, please contact us at:


marketing@thecus.com
2017-05-09
Easy access to support for Thecus NAS users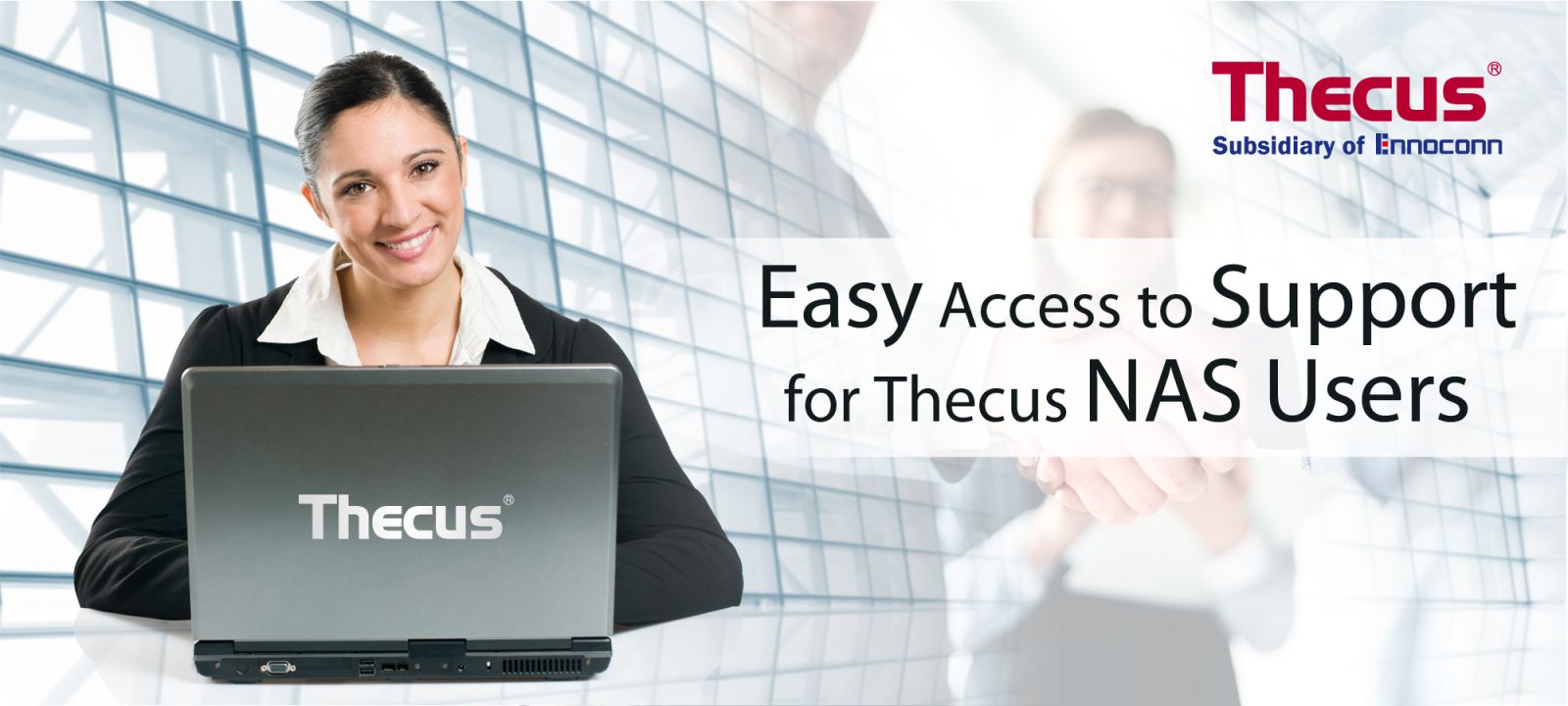 05/09/2017
- The protection of your company's valuable data is imperative, whether you run a home office, government agency or international corporation. A Thecus Network Attached Storage (NAS) solution can assist you in mitigating data loss. Thecus' skilled team of engineers with over 20 years of experience in conjunction with robust, reliable hardware minimizes such a disaster from occurring. However, when issues do occur, help is fast and turnaround is at a minimum.
E-tickets
If you encounter technical difficulties or service interruption, the best way to reach our Thecus technicians is by opening a ticket. This way you ensure that the proper dedicated person who knows the most about your product line answers your request. To do so, first create an account on the appropriate
e-support website
. Then, under the "Submit a ticket" section, you'll be able to write down your request associate with your model number, firmware version and other relevant details.
Please note that North America, Asian countries and European countries e-tickets are not treated by the same personnel at the same location. It is therefore important that you make your request under the right link to assure that your problem gets the proper attention in time.
Online resource
Thecus has a vast library of free online resources you can access to solve common and uncommon issues. Online information is constantly being created to help the Thecus® NAS user to find solutions to their questions. By consulting the
Thecus® Blog
,
Thecus® Forum
,
FAQs
,
Thecus classroom
, Social Media and the
Tech News
section on the website you will be able to find all the information you need to setup, fix, and take full advantage of all the features of your NAS.
Either from fellow Thecus users or from trained Thecus technicians, an individual or company has multiple resources available to them to help resolve their issues. Below you'll find an extensive list of useful links to find as much information as possible about Thecus® NAS systems and support if the need arises.
Useful links for support over the internet:
For technical support issues, please submit your request here:
http://esupport.thecus.com/
Official forum link:
http://forum.thecus.com/
Useful links for information regarding your NAS and modules:
Thecus® classroom:
http://www.thecus.com/sp_classroom.php
Thecus® blog:
http://blog.thecus.com/
Tech news library:
http://www.thecus.com/media.php?TYPE_ID=4
You can also follow Thecus® at:
English Facebook page:
https://www.facebook.com/Thecus/
French Facebook page:
https://www.facebook.com/ThecusFrance
Russian Facebook page:
https://www.facebook.com/ThecusRussia
Italian Facebook page:
https://www.facebook.com/I-Love-Thecus-Italia-776008195743185/
German Facebook page:
https://www.facebook.com/thecusDACH/
Traditional Chinese Facebook page :
https://www.facebook.com/ThecusChinese/
Press room:
http://www.thecus.com/media.php
Twitter English:
https://twitter.com/Thecus_Storage
Youtube channel:
http://www.youtube.com/thecusstorage
---
About Thecus®
Established in 2004, Thecus Technology Corp provides market leading network attached storage and network video recorder solutions, committed to revolutionize how everyone from home user to enterprise level business centrally stores, manages and accesses their digital data both onsite and cloud-based. Thecus strives to deliver continuous innovation through cutting edge technology and design to provide data storage with the most customer-friendly platform, rapid performance and robust security. In May 2016, Thecus was formally acquired by Ennoconn Corporation and thus became part of the Foxconn IPC Technology group. Partnered together this diverse group of companies work in tandem to provide a total IoT (Internet of Things) solution. Now with an unparalleled portfolio to work with, Thecus is collaborating to bring unprecedented change to the network storage industry.