For sales inquiries,
please contact us at:


sales@thecus.com
For marketing inquiries, please contact us at:


marketing@thecus.com
2017-03-08

What is Port Trunking?

Port Trunking, also known as Link Aggregation, is used to combine multiple LAN interfaces into one switch to increase bandwidth without changing any hardware devices, thus reducing cost. Doing so will offer optimal resource utilization, maximize throughput, minimize response time, and avoid overload. Port Trunking also provides redundancy, fault tolerance or load balancing. It also provides failover capabilities to maintain network connectivity if a network port fails.

When you don't have a 10Gigabit network card, and frequently access more than 1Gigabit speeds for larger audio and video files, using Link Aggregation technology is the perfect way to expand your network bandwidth.


Steps to setting up Port Trunking
Go to the
Control Panel
>
Network
. >
Link Aggregation
Click on
Add
This will take you to a screen where you can select the LAN ports you wish to be used, next decide your Jumbo Frame (1400~9000 bytes) and aggregation mode.
Jumbo Frame explained below.
Thecus NAS offer seven modes of LAG (link aggregation). Load balance, Failover, 802.3ad, Balance-XOR, Balance-TLB, Broadcast and Balance-ALB.
See a detailed explanation of each mode below.
You will also have to type in the following:
Your IP address this must be fixed, not static
Your Netmask
Your Gateway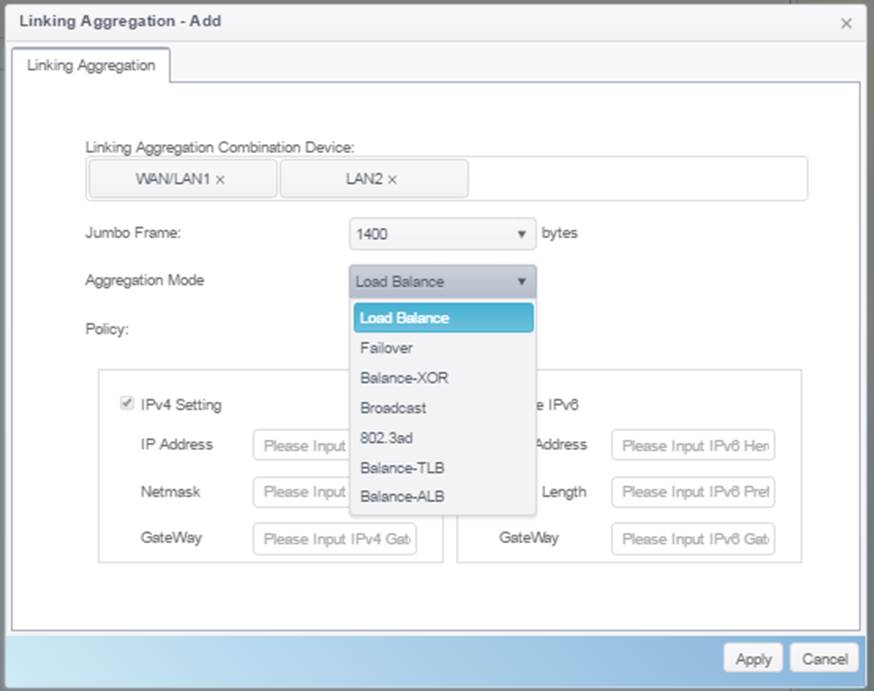 Once you have added all the necessary information, click on Apply. The NAS will then be needed to reboot. Once the reboot is completed, you will be able access your new network performance.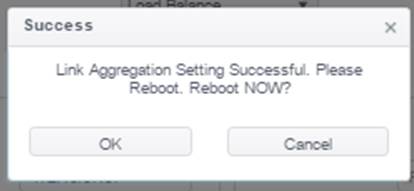 The different types of Aggregation explained:
Load Balance:
This LAG balances outgoing traffic across the active ports and accepts incoming traffic from any active port.
When to use?
The network service "constant line" demand can be used.
When you have many small packets, you might also consider using, for example, when you use eMule/BT to download.
MountNAS iSCSI LUN or a network drive to access video file editing work.
When flow balance is required, so cannot use Failover only.
Different speed NIC can be shared, but not recommended.
Failover:
LAG in failover mode uses a main port for incoming and outgoing traffic between the two devices while the others are kept as backup. If the main fails, the other one immediately takes the charge. No special switch is required to support this. This mode provides fault tolerance.
802.3ad:
This mode requires a switch which can also support 802.3ad. This LAG mode uses the bandwidth of all available similar ports, sharing the transmission evenly.
Balance-XOR:
This mode dedicates one port for each destination address. XOR provides load balancing and fault tolerance.
Broadcast:
This mode uses all available ports to transmit the data towards the switch. If one port fails to transmit, the other ports assure the communication is completed, thus providing fault tolerance.
Balance-TLB (Transmit Load Balance):
Outgoing traffic is load balanced, but incoming only uses a single interface. The driver will change the MAC address on the NIC when sending, but incoming always remains the same.
Balance-ALB (Adaptive Load Balance):
Both sending and receiving frames are load balanced using the change MAC address trick.
What is Jumbo Frame?
Jumbo Frame is a feature that is supported on the NIC and hub; it's specifically designed for Gigabit Ethernet industry standard, a long packet format. With Jumbo Frame, you can get Gigabit effectiveness of Ethernet network, allowing data transfer effectively of 50%-100%. A Jumbo Frame is anything bigger than 1518 bytes with a max of 9000 bytes and MPU default of 1500 bytes.
In other words, Jumbo Frame is to modify packet size, in order to help processor cycles and bandwidth, and to save the number of transmitted packets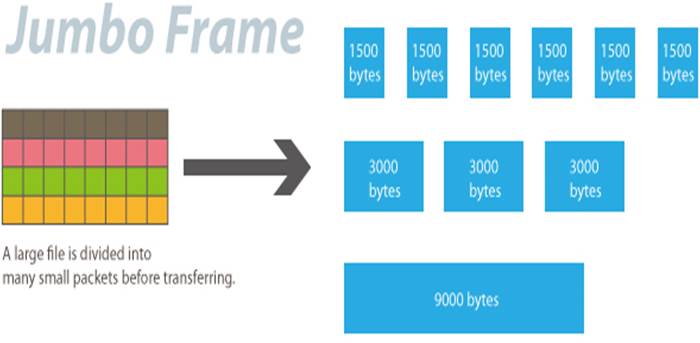 Setting up the client-side system's NIC?

If you want to set up Jumbo Frame, you must first make sure that the network environment such as router / hub / switch specifications is supported. Even on the network, various client devices (PC/printer)have to support Jumbo Frame as well. For example, if a NAS set up to a 9000 bytes Jumbo Frame, but the switch or PC does is not supported; this will cause packet restriction on receiving devices which are not supported, and will cause network bottlenecks at the router.

Recommended Jumbo Frame Timing:
Only applies to "large", "long time" transmissions.
Database backup
HD Audio/Video streaming
Video/Image Editing Environment
When not to apply Jumbo Frame
A network environment/small packet coexists or a small number of packets is large, Jumbo Frame will hinder performance.
BT/eMule for this type of file transfer, do not apply Jumbo Frame because the source of non-fixed(IP/MAC)and data file has been altered to smaller files.
Please Note:
Port Trunking is unable to exceed the speed limit of a single Ethernet device, but it offers a substantial amount of bandwidth for multiple users connecting at the same time. For example, if two 1Gb ports are used for Link aggregation, the network bandwidth capacity will be increased to 2Gb, but the network speed will remain at 1Gb.
---
About Thecus®
Established in 2004, Thecus Technology Corp provides market leading network attached storage and network video recorder solutions, committed to revolutionize how everyone from home user to enterprise level business centrally stores, manages and accesses their digital data both onsite and cloud-based. Thecus strives to deliver continuous innovation through cutting edge technology and design to provide data storage with the most customer-friendly platform, rapid performance and robust security. In May 2016, Thecus was formally acquired by Ennoconn Corporation and thus became part of the Foxconn IPC Technology group. Partnered together this diverse group of companies work in tandem to provide a total IoT (Internet of Things) solution. Now with an unparalleled portfolio to work with, Thecus is collaborating to bring unprecedented change to the network storage industry.