For sales inquiries,
please contact us at:


sales@thecus.com
For marketing inquiries, please contact us at:


marketing@thecus.com
2016-12-30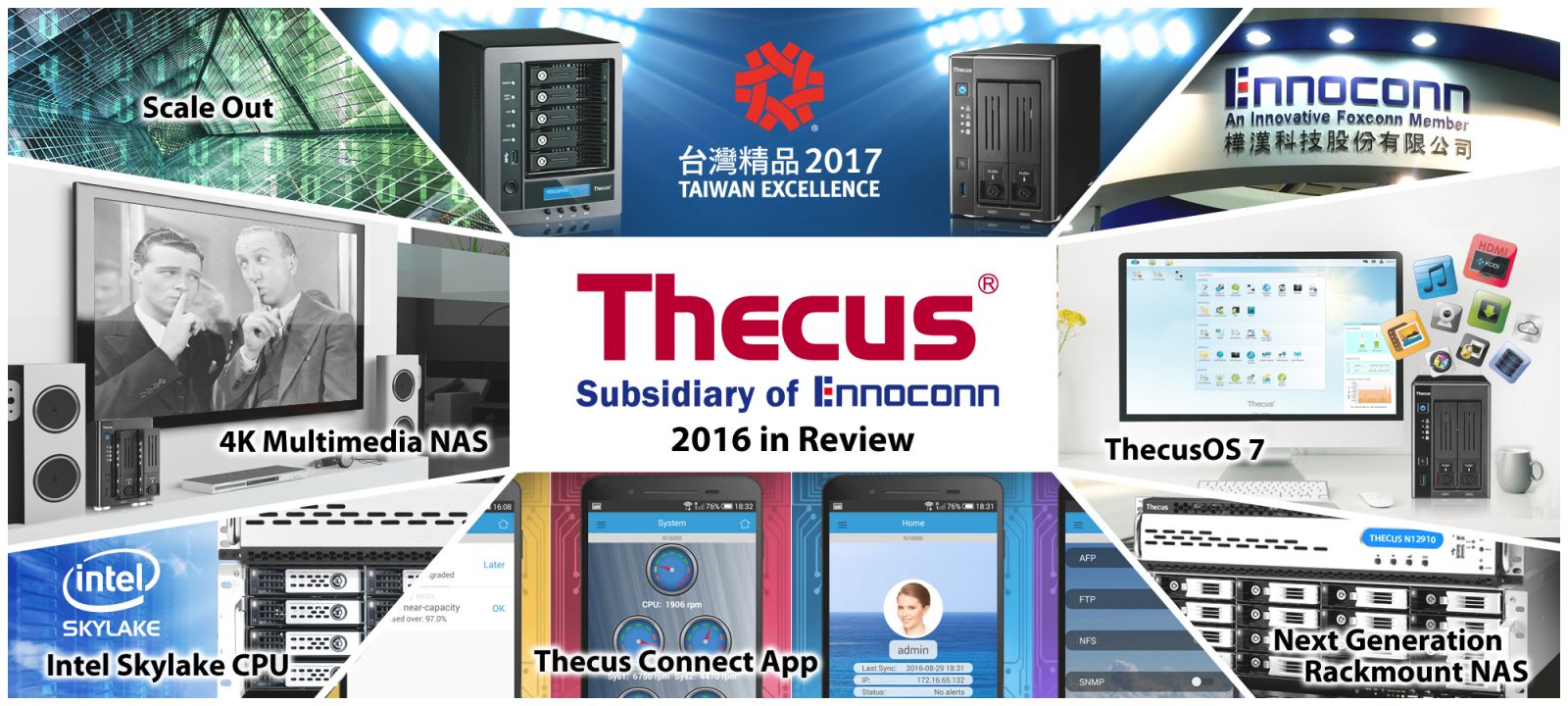 12/30/2016 - If people have worked with Thecus in the past, one concept will come to mind, and that is cost-price performance. While staying true to this core concept, Thecus has been focusing this year on building on past success and have remained dedicated to ensuring major improvements occur in the NAS industry. That is why Thecus in 2016 has done everything in their power to build a foundation in which to be pioneers in the NAS industry in 2017. This year has been a transformative year for Thecus.

Introduction of ThecusOS 7

We launched into 2016 with the release of ThecusOS 7; this new OS brought a much needed upgrade to our operating system, providing a much more intuitive and user-friendly interface for Thecus devices, which even enable novice users can operate. Throughout the year, multiple applications and features have been added to enrich the software.

Thecus joins Manufacturing Titan

The next new pinnacle was Ennoconn's acquisition of Thecus, allowing Thecus to leverage Foxconn's World Class Production facilities. With Foxconn being one of the most trusted names in contract manufacturing services in the world, it opens the path for an extremely competitive edge in regards to price point and quality assurance in 2017.

New releases in all of Thecus' diverse product lines

Throughout 2016, came the release of multiple NAS with the latest hardware for all segments, this included the next generation of the Thecus' Windows Storage Sever 2012 R2 Essentials NAS series, the addition of 4K playback NAS, improved NIC cards for greater 10GbE support. Thecus'enterprise-class NAS reached new levels in speed and reliability with the introduction of Intel Skylake CPU architecture and the latest DDR4 RAM.

Most recently, we have taken scalability to a new level. Where the industry standard of scaling up your NAS configuration has been with Daisy-Chain technology, Thecus has added Scale-out functionality. This new architecture can scale both capacity and performance, essentially without limit.

Recognition in the industry

This year, Thecus became an Intel Storage Builder member and received Microsoft Azure accreditation for IoT devices. Thecus devices were the beneficiary of multiple awards, the most prestigious of them were receiving the "Editor's choice" for the 2-bay NAS round by one of USA's largest Technology media, Tom's Hardware. In Russia, Thecus was recognized as a "Champion of the IT-Channel 2016" by CRN Russia. Plus this month was awarded the "Taiwan Excellence" Award, which is the highest achievement presented to manufacturers by the Taiwan Ministry of Economic Affairs (MOEA).

2017 and beyond

Technology is always in continuous change, and the NAS industry is no exception. Thecus is set to grow their global brand as a significant contributor to the storage market, with several initiatives planned in 2017. In the 2 to 4 bay range, our key focus is the integration of IoT devices in a smart home environment. Through P2P connection, there will be seamless interconnection with central storage, private cloud, surveillance and streaming.

The adoption of NAS systems will continue to rise in the enterprise environment, with Thecus being in the perfect position to take advantage of this trend, as the cost-effectiveness of NAS systems as well as reliability being the key motivators for business. Thecus will also continue to enhance its scale-out functionality, developing a greater feature set and performance. Delivering companies with the ability to dynamically add to their storage system easier and more cost effectively than ever before.

The age of Big Data is upon us, with developed countries fighting to be pioneers in Smart City Solutions. The amount of data a Smart City can generate needs a strong back up storage. Thecus in collaboration with Intel storage builder members and Microsoft support are certain that our NAS are a competitive choice to compete in this innovative concept. Thecus is primed to be a key player in the Network Attached Storage industry in 2017.
---
About Thecus®
Established in 2004, Thecus Technology Corp provides market leading network attached storage and network video recorder solutions, committed to revolutionize how everyone from home user to enterprise level business centrally stores, manages and accesses their digital data both onsite and cloud-based. Thecus strives to deliver continuous innovation through cutting edge technology and design to provide data storage with the most customer-friendly platform, rapid performance and robust security. In May 2016, Thecus was formally acquired by Ennoconn Corporation and thus became part of the Foxconn IPC Technology group. Partnered together this diverse group of companies work in tandem to provide a total IoT (Internet of Things) solution. Now with an unparalleled portfolio to work with, Thecus is collaborating to bring unprecedented change to the network storage industry.