For sales inquiries,
please contact us at:


sales@thecus.com
For marketing inquiries, please contact us at:


marketing@thecus.com
2006-06-05
Leading ICT show in Australasia Experiences Thecus Technology

6/5/2006 – As Australasia's leading Information & Communications Technology (ICT) event for the business marketplace, CeBIT Australia covers the entire spectrum of technology and the key elements that make up the ICT products and services marketplace. Now in its fifth year, CeBIT Australia features over 700 exhibitors and welcomes over 30,000 business visitors to the fairgrounds. This year, Thecus Technology, in association with distributor Altech Computers was present at the show to display some of Thecus' latest digital storage solutions.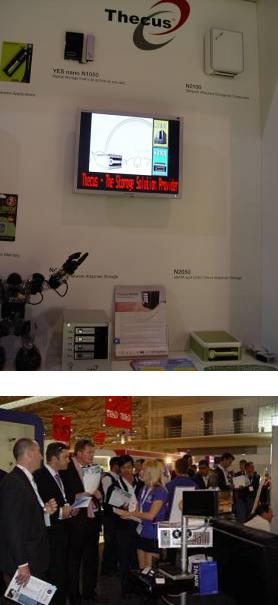 Barely larger than the 2.5" hard disk it house, the YES nano N1050 can accommodate massive storage in form factor that fits quite handily in a purse or coat pocket. With the included protective carrying case, the YES nano N1050 makes a perfect travel companion. Making file transfers easy on-the-go, the YES nano N1050 is ideal for digital photographers on the move.
The N2050 is the ideal storage device for media buffs that have a large media collection. With its innovative eSATA interface and large storage space, the N2050 boasts up to 3Gb/s of data transfer speed – that's six times faster than high-speed USB 2.0! With the N2050, users can witness now they can access their photos, songs, and files faster than ever before.
For more information on Altech Computers, go to: http://www.altech.com.au/
For more information on Thecus, go to: http://www.thecus.com/
---
About Thecus
Thecus® Technology Corp. specializes in IP Storage Server solutions. The company was established in 2004 with the mission to make technology as transparent and easy-to-use as possible, and to make products that are not only the best on the market, but are accessible to experts and novices alike. With a best-in-class R&D team highly experienced in storage hardware and software and with a keen customer focus, Thecus® stays close to the market to develop high-quality products to fulfill the storage needs of today's world.
For more information, please visit the Thecus® website at: http://www.thecus.com
For sales and other inquiries, please contact us via email: sales@thecus.com