For sales inquiries,
please contact us at:


sales@thecus.com
For marketing inquiries, please contact us at:


marketing@thecus.com
2010-02-24
Seven-bay Thecus® NAS triumphs over five other SME storage units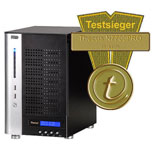 02/24/2010 – Plentiful storage options, a laundry list of features, and blazing performance are all hallmarks of the much vaunted N7700PRO from Thecus®. Tom's Networking recently did a roundup consisting of six different NAS devices targeted towards small to medium enterprises, and when all was said and done, editors declared the N7700PRO the winner of the group test, citing excellent performance and flexibility!
The N7700PRO offers the most plentiful storage options: "The SME devices hold at least four SATA hard drives. With the QNAP TS-509 Pro Turbo NAS, there are five, and the Thecus N7700PRO combines as many as seven. With six variants, this NAS has therefore the largest selection of RAID configuration options: There are several RAID modes including 0, 1, 5, 6, 10 and multiple RAIDs are supported."
Power-saving features on the N7700PRO are also superior: "The best possible offers at the Thecus N7700PRO, the web interface an already predefined input mask for each weekday. Only with the devices, Iomega and Seagate can be in this discipline does not save energy - they do not support a scheduled startup and shutdown."
But when it comes to performance, the N7700PRO has no rival: "In terms of reading performance, the Thecus N7700PRO with an average of 49MB/s also fared best. Followed close behind is the network storage from Seagate with 45MB/s and Zyxel with 43MB/s. The other three NAS devices from Buffalo, Iomega and Qnap scores are identical, and each transfer 35MB/s over a Gigabit Ethernet network."
So what's the final conclusion? "The best overall package is the Thecus N7700PRO and will therefore get the recommendation of the editors. With over 40MB/s when reading and writing data, the Thecus is performing faster than the competition. In addition, a web interface that comes with extensive and convenient configuration and is complemented by plug-ins that can add additional functions. With seven drive bays and six multiple RAID modes including RAID options via the ZFS file system, administrators can use the Thecus very flexibly."
For the full review, check out:
http://www.tomsnetworking.de/content/tests/j2009a/test_kmu_nasxml/index.html
For more information on the N7700PRO, check out:
http://www.thecus.com/products_over.php?cid=11&pid=198
---
About Thecus
®
Thecus® Technology Corp. specializes in IP Storage Server solutions, including Network Attached Storage (
NAS
) , DAS, External Storage and Wireless Media
NAS
(Bank ) products. The company was established in 2004 with the mission to make technology as transparent and easy-to-use as possible, and to make products that are not only the best on the market, but are accessible to experts and novices alike. With a best-in-class R&D team highly experienced in storage hardware and Linux software and with a keen customer focus, Thecus® stays close to the market to develop high-quality products to fulfill the storage Server needs of today's world.
For sales inquiries, please contact us via email:
sales@thecus.com
For marketing inquiries, please contact us via email:
marketing@thecus.com