For sales inquiries,
please contact us at:


sales@thecus.com
For marketing inquiries, please contact us at:


marketing@thecus.com
2006-06-01
Rock your digi-content anywhere with RouStor™ Technology!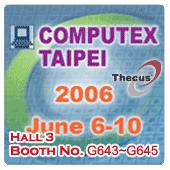 6/2/2006 – With over 1,200 exhibitors and 2,800+ booths, Computex Taipei is far and away Asia's largest IT show. Exhibiting all manners of IT products on a global scale, Computex draws approximately 27,000 international buyers, and attracts the world's largest IT brands. Among the brands in attendance this year will be Thecus Technology, leading provider of innovative digital storage solutions. Winning numerous awards around the world for design, functionality, and ease-of-use, Thecus storage solutions will be demonstrated at Hall 3, Booth G643~G645 from June 6 ~ 10 to an international audience.
At this year's show, Thecus will be launching its RouStor™ series of storage solutions. Thecus' RouStor™ series combines Thecus' award-winning NAS technology with routing capabilities into a single device. The result is an all-in-one solution that handles both networking and network storage for the home or office.
Part of the RouStor™ series, the N5200 delivers the capacity for five 3.5" SATA hard disks for up to 3.75TB of storage! Managing your RAID 0, 1, 5, 6, or 10 array is easy with the N5200's built-in RAID management features, and easily expand your storage with powerful RAID expansion and RAID migration capabilities. To backup your data, the N5200 comes with the Thecus Backup Application, as well as a feature called Nsync. With Nsync, users can have the N5200 automatically upload files to an external storage device via FTP at a designated time, taking the guesswork out of data backups. With 1 Gigabit Ethernet port and a 4 port Gigabit switch, as well as the option of installing a USB 802.11 b/g dongle for Wi-Fi capability, the N5200 offers excellent flexibility with multiple connectivity options.
New to the RouStor™ series is the N1200, Thecus' easy-to-use 1-bay storage solution that includes a built-in 4-port switch. The N1200 features both eSATA and USB interfaces, both high-speed transfers and easy storage expansion. The Thecus Download Manager supports BitTorrent, HTTP, and FTP transfers, and enables users to schedule downloads during off-peak hours. In addition, the N1200 includes a built-in mini-PCI connector! With a mini PCI wireless card or a USB Wi-Fi dongle, the N1200 acts as a wireless access point for unmatched convenience.
Check out these and other Thecus storage solutions at Hall 3, Booth G643~G645.
For more information on Thecus, go to: http://www.thecus.com/
---
About Thecus
Thecus® Technology Corp. specializes in IP Storage Server solutions. The company was established in 2004 with the mission to make technology as transparent and easy-to-use as possible, and to make products that are not only the best on the market, but are accessible to experts and novices alike. With a best-in-class R&D team highly experienced in storage hardware and software and with a keen customer focus, Thecus® stays close to the market to develop high-quality products to fulfill the storage needs of today's world.
For more information, please visit the Thecus® website at: http://www.thecus.com
For sales and other inquiries, please contact us via email: sales@thecus.com