For sales inquiries,
please contact us at:


sales@thecus.com
For marketing inquiries, please contact us at:


marketing@thecus.com
2010-01-26
"Organize your home media collection with ease"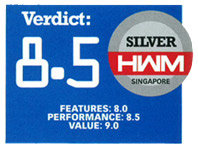 01/26/2010 – More and more people are turning to NAS solutions to manage their digital media at home. By centralizing their data, users can easily enjoy movies, music, photos and more with any device connected to their network. In their January 2010 issue, HWM Magazine Singapore brought Thecus®' new and friendly N2200 into their test labs, and after putting it through it's paces, found a ton to love about this handy two-bay. In fact, they bestowed it with their Silver Award and a final score of 8.5 out of 10!
Easy to setup with a huge capacity for data, the N2200 is perfect for the home: "Setting up the N2200 is relatively straightforward. The drive caddies unlatch and slide out with ease, while mounting the hard drives themselves needs nothing more than a couple of turns with a screwdriver. The N2200 supports hard drives of up to 2TB, so you can theoretically have 4TB worth installed at one to. Thecus provides a handy app called Smart Utility, which installs the necessary software to manage and operate the N2200, as well as to configure your preferred RAID setting."
But what about features? "In terms of features, the N2200 comes with iTunes, photo, web, and media server functionality, while DLNA-certified digital media players can also automatically download and stream content from the N2200 without much fuss. USB web cameras and IP cameras can also hook up to the N2200 via USB for basic surveillance functionality too."
The N2200 delivers some impressive performance: "Testing with CrystalMark, the N2200 managed an average sequential read speed of 37.29MB/s and a sequential write speed of 22.28MB/s when in RAID 1. In RAID 0, the average speeds recorded were 42.84MB/s and 19.56MB/s respectively. Speed-wise, the N2200 performs very well indeed, and is one of the faster 2-bay solutions that we've tested so far."
Here's the verdict: "At $265, the N2200 is priced attractively, and given its rather extensive feature set, is definitely worth considering as a NAS for the home, or for the small office setup."
For the full review, check out the January 2010 issue of HWM Magazine Singapore.
For more information on the N2200, check out:
http://www.thecus.com/products_over.php?cid=12&pid=178
---
About Thecus
®
Thecus® Technology Corp. specializes in IP Storage Server solutions, including Network Attached Storage (
NAS
) , DAS, External Storage and Wireless Media
NAS
(Bank ) products. The company was established in 2004 with the mission to make technology as transparent and easy-to-use as possible, and to make products that are not only the best on the market, but are accessible to experts and novices alike. With a best-in-class R&D team highly experienced in storage hardware and Linux software and with a keen customer focus, Thecus® stays close to the market to develop high-quality products to fulfill the storage Server needs of today's world.
For sales inquiries, please contact us via email:
sales@thecus.com
For marketing inquiries, please contact us via email:
marketing@thecus.com