For sales inquiries,
please contact us at:


sales@thecus.com
For marketing inquiries, please contact us at:


marketing@thecus.com
2010-01-28
Thecus® General Manager reveals plans for Japanese market

01/28/2010 – Thecus® Technology is widely regarded as a leader in digital storage worldwide. From the venerable N4100 to the innovative N0503 ComboNAS and the powerful N7700PRO, Thecus® consistently bests other manufacturers in terms of performance, features, and value. In their March 2010 issue, Japan's DOS/V Magazine had a rare opportunity to interview Thecus®' General Manager Florence Shih. In the interview, Ms. Shih talks about Thecus®' rise in Japan, as well as the company's future plans for the Japanese market. Here is a short excerpt from the interview:
DOS/V: I think Thecus® is a brand that turns to the latest technology in advance of other companies, and for that reason, is always chosen first. Please let me here about your company profile.
Florence: Thecus® is a young company that was just established in 2004. There are branch offices in the United States and Netherlands, and our corporate headquarters is in Taipei. The name Thecus® actually means "storage" in Latin, and we are always striving to offer true network storage products that meet user requests by developing products based on the latest technology and bringing them promptly to the market.
DOS/V: Thecus® is known in Japan to be famous for high performance and abundant features. Can you give me some concrete examples of why this is?
Florence: I think it might be because Thecus® always satisfies our user's demands through new technological advancements that are one step ahead of other manufacturers. For instance, when we introduced a four-bay NAS with Serial ATA hard disks, it was widely accepted by corporate users who requested both high-speed and high-reliability. Our company is composed of old-timers with more than 15 years of experience in the industry, and our engineers not only design the software, but the hardware as well. It is a great achievement being able to add more functions and deliver overwhelming performance compared to other companies through complete hardware and software integration.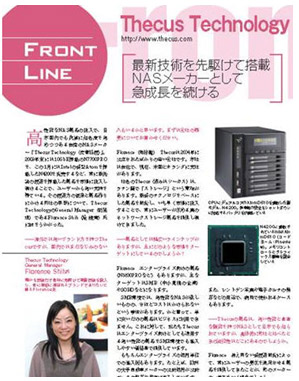 For the full interview, check out the March 2010 issue of DOS/V Magazine.
---
About Thecus
®
Thecus® Technology Corp. specializes in IP Storage Server solutions, including Network Attached Storage (
NAS
) , DAS, External Storage and Wireless Media
NAS
(Bank ) products. The company was established in 2004 with the mission to make technology as transparent and easy-to-use as possible, and to make products that are not only the best on the market, but are accessible to experts and novices alike. With a best-in-class R&D team highly experienced in storage hardware and Linux software and with a keen customer focus, Thecus® stays close to the market to develop high-quality products to fulfill the storage Server needs of today's world.
For sales inquiries, please contact us via email:
sales@thecus.com
For marketing inquiries, please contact us via email:
marketing@thecus.com