For sales inquiries,
please contact us at:


sales@thecus.com
For marketing inquiries, please contact us at:


marketing@thecus.com
2010-01-21
21/01/2010 - Aside from performance and features, something that both home and small business users take into consideration when searching for the ideal NAS device is the ability to provide easy administration and quick setup. To that end, Thecus® introduces the world's first NAS equipped with two displays: an LCD and an OLED. Thecus® is renowned as a pioneer in the storage market, and after the introduction of the patented Dual DOM™ technology, this new Dual Display design is sure to once again become a central topic for the storage market.
Having two separate displays means double the convenience and flexibility. The LCD and OLED display various system status messages to keep users informed at all times. The LCD, with its colored icons, displays system status information such as HDD, WAN/LAN and USB. Each hard disk has its own icon, and if an error occurs in one of the disks, the icon of that particular hard disk will flash red, enabling users to instantly discover exactly which disk is affected and take actions accordingly.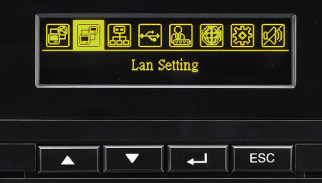 The OLED has many advantages; it is thin and light, has low power consumption, and offers quick response times. By pressing the OLED's 256 x 64 pixel high resolution icons, users can configure a number of system settings, including WAN/LAN IP, USB Copy and Set to Factory Default. Using the OLED is very intuitive and friendly, allowing users to find their desired options quickly and effortlessly.
Thecus® has added Alarm Mute and Change Language options to the OLED. The Alarm Mute option allows users to turn off the system warning sound instantly without having to log into the Web GUI. The OLED currently supports 11 languages, and via the Change Language option, users can switch to the desired language on both the OLED and the Web GUI simultaneously. The OLED is also well protected. When it idle for more than 2 minutes, the screen saver will activate and the OLED will be disabled automatically when idle for about 5 minutes to save energy.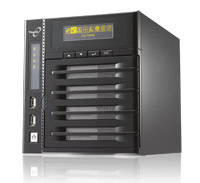 Over the years, Thecus®, the Creator in Storage, has been devoted to bringing worldwide users innovative and friendly storage solutions. This unique Dual Display design can be found on the Thecus® N4200 NAS powered by the Intel® Atom D510 processor, taking Home NAS to a whole new level of convenience and flexibility.
For more information on N4200, please go to:
http://www.thecus.com/products_over.php?cid=10&pid=220&set_language=english
---
About Thecus
®
Thecus® Technology Corp. specializes in IP Storage Server solutions, including Network Attached Storage (
NAS
) , DAS, External Storage and Wireless Media
NAS
(Bank ) products. The company was established in 2004 with the mission to make technology as transparent and easy-to-use as possible, and to make products that are not only the best on the market, but are accessible to experts and novices alike. With a best-in-class R&D team highly experienced in storage hardware and Linux software and with a keen customer focus, Thecus® stays close to the market to develop high-quality products to fulfill the storage Server needs of today's world.
For sales inquiries, please contact us via email:
sales@thecus.com
For marketing inquiries, please contact us via email:
marketing@thecus.com