For sales inquiries,
please contact us at:


sales@thecus.com
For marketing inquiries, please contact us at:


marketing@thecus.com
2010-01-18
Three-bay wonder delivers second-to-none file transfer performance

01/18/2010 – Thecus® NAS products are consistently topping the performance charts. Through superior engineering, Thecus® is able to find ways to optimize file transfer speeds, so users don't have to wait for their data. But what happens when you pit Thecus ® NAS products against competing units? TestFreaks recently put together a roundup of 8 NAS units including the N3200PRO, and after thoroughly testing all of them, found out that the N3200PRO does live up to the Thecus® reputation for performance, trouncing all other NAS units in their performance tests!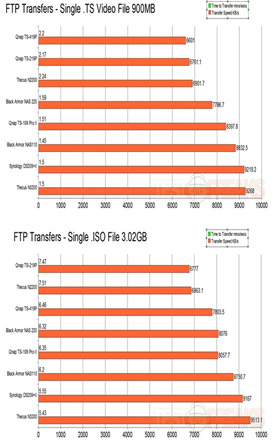 In their first test, TestFreaks copied a single 900MB .TS video file over FTP and measured the speeds of each of the competing NAS boxes. As you can see, Thecus'® N3200PRO speeds ahead of all other NAS units, delivering the fastest transfer speeds of the group test with a score of 9268Kb/sec!
Competing devices from other NAS manufacturers simply couldn't hold a candle to the raw power of the N3200PRO.
But was this first test a fluke? Could the N3200PRO hold its leading position with another test?
In the next segment of the review, TestFreaks transferred a single 3.02GB ISO file, once again via FTP.
In this test, the Thecus® N3200PRO dominated even further with a final score of 9513.1 Kb/sec and the fastest overall transfer time of 5.43 seconds!
For the full review, check out:
http://www.testfreaks.com/blog/information/network-attached-storage-comparison-8-tested-and-compared/
For more information on the N3200PRO, check out:
http://www.thecus.com/products_over.php?cid=12&pid=89
---
About Thecus
®
Thecus® Technology Corp. specializes in IP Storage Server solutions, including Network Attached Storage (
NAS
) , DAS, External Storage and Wireless Media
NAS
(Bank ) products. The company was established in 2004 with the mission to make technology as transparent and easy-to-use as possible, and to make products that are not only the best on the market, but are accessible to experts and novices alike. With a best-in-class R&D team highly experienced in storage hardware and Linux software and with a keen customer focus, Thecus® stays close to the market to develop high-quality products to fulfill the storage Server needs of today's world.
For sales inquiries, please contact us via email:
sales@thecus.com
For marketing inquiries, please contact us via email:
marketing@thecus.com