For sales inquiries,
please contact us at:


sales@thecus.com
For marketing inquiries, please contact us at:


marketing@thecus.com
2010-01-12
50% of the top 10 NAS products bear the Thecus® brand
01/12/2010 – 2009 was another banner year for leading digital storage maker Thecus® Technology. During this time, Thecus® released a multitude of innovative storage products, ranging from the pocketable N0204 miniNAS, to the infinitely versatile N0503 ComboNAS,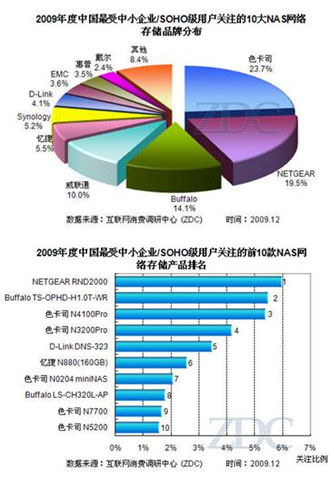 all the way to the powerhouse N7700. Recently, ZOL.com.cn decided to analyze the SMB/SOHO market to see which storage brands fared the best in China, and according to the latest ZDC data, they discovered that Thecus® Technology was the leading storage brand in the SMB/SOHO market in China, occupying 50% of the top 10 storage products!
In the first chart, ZDC data indicates that Thecus® has taken a commanding lead in terms of overall brand importance for the SMB/SOHO storage market with 23.7%.
ZOL.com.cn then analyzed the top 10 storage products for this market, and found out that five of them were Thecus® storage solutions, including the N4100PRO, N3200PRO, N0204 miniNAS, N7700 and N5200.
"Thecus® has come a long way, and our top placing in China's SMB/SOHO market is the result of many years of dedication and hard work by the entire Thecus® team," said Florence Shih, Thecus® Technology General Manager. "But we will not be content and simply rest on our laurels. In the future, we will continue to make world-class NAS products that push the envelope and redefine what people expect from NAS devices."
For the full report, check out:
http://zdc.zol.com.cn/159/1593716.html
---
About Thecus
®
Thecus® Technology Corp. specializes in IP Storage Server solutions, including Network Attached Storage (
NAS
) , DAS, External Storage and Wireless Media
NAS
(Bank ) products. The company was established in 2004 with the mission to make technology as transparent and easy-to-use as possible, and to make products that are not only the best on the market, but are accessible to experts and novices alike. With a best-in-class R&D team highly experienced in storage hardware and Linux software and with a keen customer focus, Thecus® stays close to the market to develop high-quality products to fulfill the storage Server needs of today's world.
For sales inquiries, please contact us via email:
sales@thecus.com
For marketing inquiries, please contact us via email:
marketing@thecus.com