For sales inquiries,
please contact us at:


sales@thecus.com
For marketing inquiries, please contact us at:


marketing@thecus.com
2010-01-06
"For a small business, the N4100PRO is perfect"

01/06/2010 – Small businesses require storage devices that not only have a large capacity, but also offer excellent performance and connectivity options. For these users the N4100PRO from Thecus® fits the bill perfectly. Malaysia's Maxit Magazine tested the N4100PRO in their December 2009 issue, and when the dust settled, editors said that "For a small business, the N4100PRO is perfect…" and awarded the N4100PRO a final score of 8 out of 10!
The N4100PRO has the hardware to deliver great performance: "The N4100PRO is powered by an AMD Geode LX800 processor and it comes with 256MB of DDR400 memory. We threw in four units of Western Digital's 2TB Black Caviar drives (WD2001FASS) and the N4100PRO booted up without any problems. It supports RAID 0, 1, 5, 6, 10 and JBOD and we selected RAID 5 for optimum space, security and performance...We recorded a write performance (over a Gigabit connection) of 8.5MB/sec and a read speed of nearly 12MB/sec."
The N4100PRO offers a wealth of connectivity options: "There are two Gigabit ports for redundancy and three USB ports which can be used to connect additional drives or offload data from your flash drives."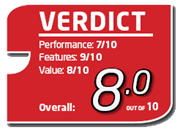 The conclusion from Maxit: "For a small business, the N4100PRO is perfect as it offers a good balance of features, performance and price. Novices might have difficulty setting it up, but it's not impossibly complex. The asking price might seem a bit steep, but you do get what you pay for."
For the full review, check out the December 2009 issue of Maxit Magazine.
For more information on the N4100PRO, check out:
http://www.thecus.com/products_over.php?cid=10&pid=77
---
About Thecus
®
Thecus® Technology Corp. specializes in IP Storage Server solutions, including Network Attached Storage (
NAS
) , DAS, External Storage and Wireless Media
NAS
(Bank ) products. The company was established in 2004 with the mission to make technology as transparent and easy-to-use as possible, and to make products that are not only the best on the market, but are accessible to experts and novices alike. With a best-in-class R&D team highly experienced in storage hardware and Linux software and with a keen customer focus, Thecus® stays close to the market to develop high-quality products to fulfill the storage Server needs of today's world.
For sales inquiries, please contact us via email:
sales@thecus.com
For marketing inquiries, please contact us via email:
marketing@thecus.com