For sales inquiries,
please contact us at:


sales@thecus.com
For marketing inquiries, please contact us at:


marketing@thecus.com
2009-12-28
12/28/2009 - Expandability has always been one of the main characteristics of Thecus NAS products. By heavily investing in research and development, Thecus® is constantly adding new features and integrating advanced technologies into its NAS products, offering users flexible and convenient storage solutions.
Recently, Thecus® introduced the newest version of its user interface featuring AJAX technology. This new interface includes more graphics and icons, making it more lively and dynamic. Furthermore, several new features like On-Line Registration, Dual DOM Scheduled Backup, and Rsync Backup have also been added, offering users even more convenience.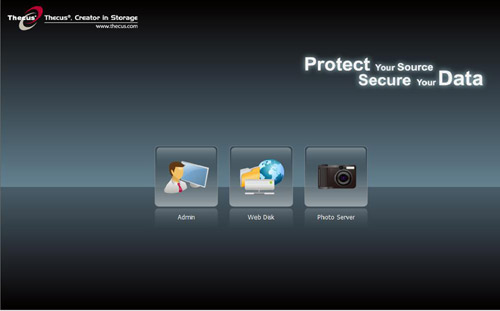 On-Line Registration
This new feature is within the users' discretion to enable or disable. By enabling the On-line Registration feature, information including product model name, current firmware version, Mac address of WAN, system notification mail address, and UI language will be sent to Thecus® database. This information will be utilized when needed to facilitate Thecus® support team to help expedite troubleshooting. Once the On-Line Registration feature has been turned on, users will also receive notification of the latest firmware and module updates from Thecus®, and links will also be provided for users to download these files.
* The information collected by Thecus is solely intended to be used to facilitate Thecus® support team when troubleshooting Thecus® products. Thecus will not disclose or misuse information collected from users under any circumstances.
Dual DOM Scheduled Backup
By default, in case of DOM 1 failure, DOM 2 will automatically recover DOM 1 by using the recovery backup file stored in the hard drives. The new Dual DOM Scheduled Backup feature allows users to set the time they want to execute backup tasks while their NASes are online. Users can also select auto backup and let the system execute backup tasks according to the system default time.
*Dual DOM technology is currently supported on the following Thecus® NAS products:
N5500, N7700SAS/PRO, N8800SAS/PRO
Rsync Backup
Thecus® users can now utilize the newly added Rsync Backup feature to backup their data between Thecus® NASes. The new Rsync backup feature is easy to setup. It utilizes standard Rsync protocol when transferring files, and it supports both synchronized and incremental backup options, bringing users a whole new level of flexibility and convenience.
Thecus'® new AJAX user interface including the new features described above can be found in firmware version 3.00.08 and onwards. The latest firmware can be downloaded via Thecus Download Centre. Please visit Thecus® website regularly for the latest updates.
*Firmware 3.00.08 is currently available on below Thecus NAS products:
N5500/N7700/N7700SAS/N8800/N8800SAS
---
About Thecus
®
Thecus® Technology Corp. specializes in IP Storage Server solutions, including Network Attached Storage (
NAS
) , DAS, External Storage and Wireless Media
NAS
(Bank ) products. The company was established in 2004 with the mission to make technology as transparent and easy-to-use as possible, and to make products that are not only the best on the market, but are accessible to experts and novices alike. With a best-in-class R&D team highly experienced in storage hardware and Linux software and with a keen customer focus, Thecus® stays close to the market to develop high-quality products to fulfill the storage Server needs of today's world.
For sales inquiries, please contact us via email:
sales@thecus.com
For marketing inquiries, please contact us via email:
marketing@thecus.com