For sales inquiries,
please contact us at:


sales@thecus.com
For marketing inquiries, please contact us at:


marketing@thecus.com
2010-01-04
Cutting-edge performance, security and convenience for the home user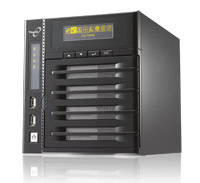 01/04/2010 – In the digital age, people are creating and accessing digital content like never before. As such, they require a storage device that is powerful enough to store and serve this content, but friendly enough to manage quickly and effortlessly. Today, digital storage leader Thecus® Technology is proud to announce the Thecus® N4200. Fast, secure, and incredibly easy-to-use, the N4200 is the ideal home NAS for the digital lifestyle.
The N4200 was designed to enable users to access their data both quickly and easily. It begins with the new Intel® Atom™ dual-core processor D510, which runs at 1.66GHz and, in combination with 1GB of DDR2 memory, delivers both blistering data transfer speeds and increased system response. Users can easy manage their unit with the N4200's dual displays. The LCD offers a wealth of system information, including hard disk and network status, while the big and bright 2.8" OLED display allows users to modify a number of settings directly on the device including WAN, LAN, Link Aggregation, languages and more, making the N4200 the friendliest Thecus® NAS ever.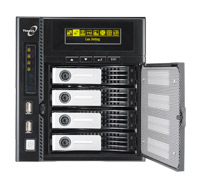 "The enormous growth of Internet-connected devices and rich media content in the home is driving demand for innovative Network Attached Storage solutions that are powerful yet easy to use," said Seth Bobroff, General Manager, Data Center Group – Storage. "The Intel® Atom™ processor D510 powers the Thecus N4200 NAS Server to deliver a responsive and reliable storage solution that enables consumers to enjoy and conveniently manage their digital lifestyles."
Of course, the N4200 is incredibly adept at both storing and securing data. Four SATA II hard disk bays offer up to 8TB of storage capacity, which is plenty of space for all sorts of digital photos, movies, and music. To keep data safe, the N4200 comes with multiple RAID modes, including RAID 0, 1, 5, 6, 10 and JBOD. The N4200 is equipped with Dual DOM technology, which uses a secondary DOM to reprogram the primary DOM in the event of a failure, and ensures maximum uptime and data availability. The N4200 can even handle itself during a power outage, thanks to the built-in battery backup module (BBM). Should the power go out for any reason, the N4200 automatically retains unwritten data in hard drives to maintain data integrity.
"Some memories are simply irreplaceable, which is why many home users would greatly benefit from the data security features of our new N4200," said Florence Shih, Thecus General Manager. "Featuring both Dual DOM and battery backup, the all-new N4200 is the perfect device for storing, sharing, and securing all of our digital memories and media."
For more information on the N4200, go to:
http://www.thecus.com/products_over.php?cid=10&pid=220&set_language=english
---
About Thecus
®
Thecus® Technology Corp. specializes in IP Storage Server solutions, including Network Attached Storage (
NAS
) , DAS, External Storage and Wireless Media
NAS
(Bank ) products. The company was established in 2004 with the mission to make technology as transparent and easy-to-use as possible, and to make products that are not only the best on the market, but are accessible to experts and novices alike. With a best-in-class R&D team highly experienced in storage hardware and Linux software and with a keen customer focus, Thecus® stays close to the market to develop high-quality products to fulfill the storage Server needs of today's world.
For sales inquiries, please contact us via email:
sales@thecus.com
For marketing inquiries, please contact us via email:
marketing@thecus.com