For sales inquiries,
please contact us at:


sales@thecus.com
For marketing inquiries, please contact us at:


marketing@thecus.com
2015-11-25
Flexible and efficient disk storage space allocation provides organizations with best ROI for storage systems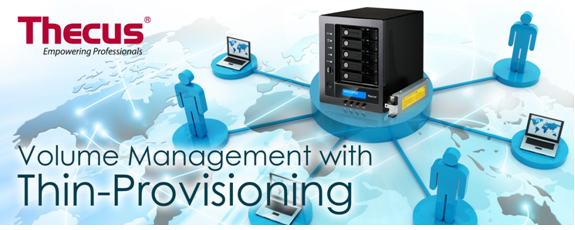 11/25/2015 - Since its inception in computing, thin provisioning has gained increased popularity and demand from those who build data storage systems. In order to accommodate this trend, App and operating system developers began to ensure that their software supported this advanced technology.
Thin provisioning is a very powerful tool to optimize storage utilization. It radically simplifies storage allocation by providing storage space only as needed. This is done by allocating resources on a first-come, first-serve basis while creating a joint pool for all data storage and operational needs.
Business is always about profit and expense control. With thin provisioning, IT personnel are able to control and decrease expenses when building data storage systems for their organizations. Thin provisioning cuts out the necessity to forecast storage volume and pay for allocated space calculated for future business growth which may be never be used. In other words, thin provisioning allows organizations to do more with less.
It is common knowledge that hard drives consume the biggest part of energy in data storage systems. Thin provisioning means fewer hard drives can perform more tasks, making the whole system very efficient while saving more energy. This, in turn, translates to less operational expenses.
Business environments are becoming more and more volatile and being able to adapt to changes quickly could mean a big win for a company. Scalability of data storage systems has become one of the most critical factors. Thin provisioning makes NAS solutions scalable and efficiently manageable. In addition to flexible storage allocation,, its self-management mechanism is very intelligent. It can significantly reduce the loading on all levels of administrators working in an organization who basically just need to make all the settings right.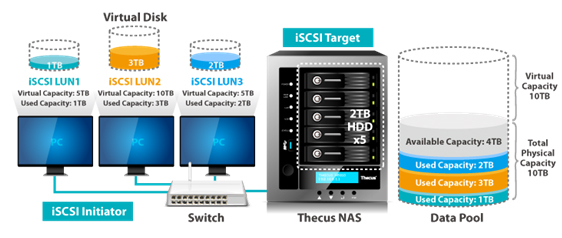 It is no secret that businesses spend large amounts of money for various software licenses. Thin provisioning can be helpful here as well. It can significantly reduce these expenses, as many license packages are priced based on the storage capacity of the system. The best example is CRM which has become widely implemented in business.
Speed is another criterion for success, and thin provisioning plays a great role in boosting the pace of operations. Thanks to its mechanism, new applications and services can be deployed much faster and automatic notifications can make monitoring prompt and speedy.
Statistics say the majority of organizations use only 75% of their provisioned space due to oversubscription of storage space. Thecus NAS solutions offer thin provisioning to help businesses avoid these issues and to optimize their storage environments. All Thecus products with support of thin provisioning will become not only a secure data storage solution for businesses but also a mechanism to achieve the best ROI on their data storage infrastructure.
For information on how to create thin provisioning on Thecus NAS, go to:
http://www.thecus.com/download/howtoguide/HowtoCreateaniSCSIThinProvisionTargetonThecusNAS.pdf
---
About Thecus®
Established in 2004, Thecus Technology Corp provides market leading network attached storage and network video recorder solutions, committed to revolutionize how everyone from home user to enterprise level business centrally stores, manages and accesses their digital data both onsite and cloud-based. Thecus strives to deliver continuous innovation through cutting edge technology and design to provide data storage with the most customer-friendly platform, rapid performance and robust security. In May 2016, Thecus was formally acquired by Ennoconn Corporation and thus became part of the Foxconn IPC Technology group. Partnered together this diverse group of companies work in tandem to provide a total IoT (Internet of Things) solution. Now with an unparalleled portfolio to work with, Thecus is collaborating to bring unprecedented change to the network storage industry.