For sales inquiries,
please contact us at:


sales@thecus.com
For marketing inquiries, please contact us at:


marketing@thecus.com
2009-12-28
Editors laud flexibility, improved interface, and robust feature set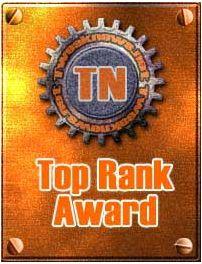 12/28/2009 – Able to accommodate both 2.5" and 3.5" hard drives, the N0503 ComboNAS from Thecus® represents a new paradigm in digital storage. The editors of Tweak News recently brought the N0503 into their test labs. After taking it for a spin, Tweak News found that the N0503 is indeed one flexible NAS device, packed with great features and an improved interface. At the end, they decided to give the N0503 their exclusive Top Rank Award!
The N0503 delivers both flexibility and power in one: "The main feature that sets this NAS apart is its ability to accept both 3.5" as well as smaller 2.5" drives. You can't mix and match different sizes of drives, but it's still nice to have the option of using one size or the other. Up to five 2.5" SATA drives can be installed, or alternatively you can install up to three 3.5" SATA drives. Hardware specs are fairly impressive. An Intel Atom processor and 1024MB DDR2 SDRAM are inside, so it should have no problems keeping up with typical users of a home or small business network."
The N0503 is packed with convenient features like USB copy: "The USB Copy function must also be installed as a separate module, but it only takes a couple of minutes to do. I am also happy to report that Thecus has addressed some previous issues I've had with this feature, the main one being the lack of bi-directional file copying. You can now freely move the contents of any shared folder on the NAS to an attached USB or eSATA disk and vice versa. This is a feature I personally use a lot, so I appreciate the improvements Thecus made."
The verdict: "Thecus brings a lot to the table with the N0503 Combo NAS. You have the choice of using up to five 2.5" drives or up to three 3.5" drives for storage, and the new, more polished AJAX-based web interface is a step in the right direction. All the familiar features are here too including the media server, print server, web server, and a myriad of other functions that are all customizable for your particular needs. The unit is compatible with a variety of operating systems too including Windows 7, Unix/Linux, and Mac OS 9/X, so it should have no problem finding a home on just about any home or small office network...As I stated before, Thecus has addressed some of the gripes I've had with previous NAS units I've reviewed from them. It's nice to see a company that is committed to improving their products and after using the N0503, it's easy to see how far they've come just in the last year."
For the full review, check out:
http://www.tweaknews.net/reviews/thecus_n0503_nas_review/
For more information on the N0503, check out:
http://www.thecus.com/products_over.php?cid=12&pid=179&set_language=english
---
About Thecus
®
Thecus® Technology Corp. specializes in IP Storage Server solutions, including Network Attached Storage (
NAS
) , DAS, External Storage and Wireless Media
NAS
(Bank ) products. The company was established in 2004 with the mission to make technology as transparent and easy-to-use as possible, and to make products that are not only the best on the market, but are accessible to experts and novices alike. With a best-in-class R&D team highly experienced in storage hardware and Linux software and with a keen customer focus, Thecus® stays close to the market to develop high-quality products to fulfill the storage Server needs of today's world.
For sales inquiries, please contact us via email:
sales@thecus.com
For marketing inquiries, please contact us via email:
marketing@thecus.com