For sales inquiries,
please contact us at:


sales@thecus.com
For marketing inquiries, please contact us at:


marketing@thecus.com
2015-10-15
With the demand for larger bandwidths increasing dramatically, businesses are in search of storage solutions equipped with features that go above and beyond.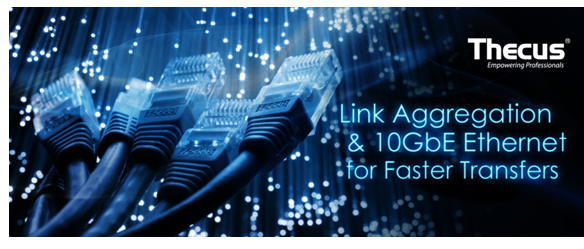 10/15/2015 – It is no secret that we are living in a world of information. Analysts say that the volume of information multiplies at the rate of a minimum of 65% each year. That can be easily explained, as we have a massive deployment of CRM and ERP systems, big data obsession and like never before, a necessity to back up business data to protect organizations from cyber-attacks. And those are just a few of the reasons behind the tremendous data volume growth we are witnessing.
The EEE standard for 10 Gigabit Ethernet was announced around 10 years ago, and at that time it wasn't widely accepted as it was hard to justify its economic benefits. However nowadays the situation has changed and we are getting into an era of 10GbE environments.
So, why is 10GbE is so important for our businesses and, in turn, our success?
Two major processes happening simultaneously, growing data volume and the need for its faster transmission, can explain a lot. In order to keep the costs reasonable and to achieve better scalability, we have begun to use Virtual Machines. VM allows users to run programs and applications controlled by NAS. Many analysts say that the number of shipments of VMs has exceeded the shipments of real servers. So we are achieving progress for efficient data storage and management, but the growing demand for bandwidth is creating yet another necessity and that is where 10GbE comes in to play. 10GbE ensures much faster transmissions of data when compared to 1GbE and is becoming increasingly important for medium and large enterprises. Together with more bandwidth, 10GbE brings new and better possibilities for link aggregation and staking of devices.
There is another trend that is growing – resource consolidation or network convergence. We are witnessing IT infrastructures, applications and operation systems becoming compatible with each other, accepting the same standards and becoming more universal. Nowadays, Ethernet needs to support not only iSCSI but also Fibre Channel traffic. That means consolidation of LAN and traditional storage networks by FCoE protocol. That is only possible with 10 Gigabit Ethernet, it is not supported by 1GbE. This type of resource consolidation allows for great economic efficiency in IT infrastructure for organization.
10Gigabite Ethernet helps to reduce the costs for hardware. Instead of numerous switches, cables and adaptors the network is built with much less equipment, while making maintenance much easier. Another benefit is less power consumption and loss, less clutter and better system cooling. In the times of social responsibility and environmental concerns these arguments seem pretty strong for many businesses.
And finally, the important question is the cost of bandwidth. The times of expensive 10GbE are gone. It is becoming more and more affordable, and gaining more efficiency over its predecessor, 1GbE. Today the cost for a Gigabit of bandwidth for 10GbE is less than that for 1GbE. Costs per port for 10GbE switches are dropping, as more and more companies chose 10GbE solutions.
At Thecus Technology, we understand the technological challenges and industry requirements, offering our customers innovative solutions. Recently, Thecus released 2 new elite-class NAS solutions for businesses equipped with 10GbE cards. The models, N7770-10G and N8880-10G, are aimed to provide high speed data transfers, unprecedented link aggregation opportunities, and modern mechanisms of data backup and storage.
---
About Thecus®
Established in 2004, Thecus Technology Corp provides market leading network attached storage and network video recorder solutions, committed to revolutionize how everyone from home user to enterprise level business centrally stores, manages and accesses their digital data both onsite and cloud-based. Thecus strives to deliver continuous innovation through cutting edge technology and design to provide data storage with the most customer-friendly platform, rapid performance and robust security. In May 2016, Thecus was formally acquired by Ennoconn Corporation and thus became part of the Foxconn IPC Technology group. Partnered together this diverse group of companies work in tandem to provide a total IoT (Internet of Things) solution. Now with an unparalleled portfolio to work with, Thecus is collaborating to bring unprecedented change to the network storage industry.