For sales inquiries,
please contact us at:


sales@thecus.com
For marketing inquiries, please contact us at:


marketing@thecus.com
2009-12-22
"The Thecus N0204 miniNAS is an easy choice"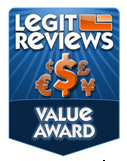 12/22/2009 – Small and pocketable, the N0204 miniNAS from Thecus® is wowing users from all over with its amazing functionality, capacity, and value. The editors of Legit Reviews managed to get their hands on this little storage wonder and decided to put it to the test. What they discovered was a NAS device that represents a tremendous value, and at the end, decided to award it with their coveted Value Award!
Easy to own and easy to love, the N0204 has it all: "The Thecus N0204 miniNAS is said to be the world's smallest fully-featured NAS device. Measuring in at just 132 x 88 x 63 mm exterior, one could easily mistake the N0204 as a regular external hard drive. However, look closer and you will see a very capable two-bay NAS device that fits right in the palm of your hand. Thecus manages to make this work by using two 2.5" SATA hard disks, providing up to 1TB of storage. "
Getting started with the N0204 couldn't be easier: "For a first time user, setting up a NAS can be a real pain in the butt if you don't know what you are doing. Thecus has tried to solve this problem with the one-click install option, and to be honest, it works really well for someone that might not feel comfortable with setup. For power users, the manual install option can be had, which gives advanced users the chance to customize some settings right from the bat. Once the basic setup and networking is done, the specific settings are done on the web interface, which is easy to do when referencing the user's manual that we linked above…once it is up and running you can stream music, pictures and other media formats around the home/office with ease and you have a place to backup your precious data."
The conclusion: "If you are wanting a small 2-bay NAS and don't mind using 2.5" laptop hard drives then the Thecus N0204 miniNAS is an easy choice. Nothing on the market today can touch it when it comes to pricing, features or the small footprint that it occupies...The Thecus N0204 miniNAS pocket RAID storage device is an easy to use NAS server that features decent performance and the smallest form factor that we have ever seen in a NAS device!"
For the full review, check out:
http://www.legitreviews.com/article/1135/1/
For more information on the N0204, check out:
http://www.thecus.com/products_over.php?cid=11&pid=198
---
About Thecus
®
Thecus® Technology Corp. specializes in IP Storage Server solutions, including Network Attached Storage (
NAS
) , DAS, External Storage and Wireless Media
NAS
(Bank ) products. The company was established in 2004 with the mission to make technology as transparent and easy-to-use as possible, and to make products that are not only the best on the market, but are accessible to experts and novices alike. With a best-in-class R&D team highly experienced in storage hardware and Linux software and with a keen customer focus, Thecus® stays close to the market to develop high-quality products to fulfill the storage Server needs of today's world.
For sales inquiries, please contact us via email:
sales@thecus.com
For marketing inquiries, please contact us via email:
marketing@thecus.com