For sales inquiries,
please contact us at:


sales@thecus.com
For marketing inquiries, please contact us at:


marketing@thecus.com
2009-12-21
Powerful features and plenty of storage make the N0503 a perfect gift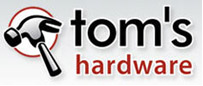 12/21/2009 – The holiday season is almost here, and what better gift to give the technophile in your life than the gift of storage? Enter the N0503 ComboNAS from Thecus® Technology. Complete with powerful features, massive storage capacity, and simple operation, the N0503 is an ideal NAS for the home. Tom's Hardware recently published their 2009 Gift Guide, and inside featured the N0503, saying "Anybody with a home network is sure to appreciate a Thecus N0503."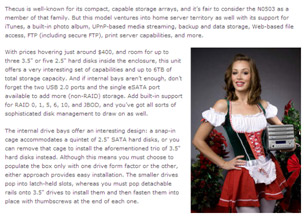 The N0503 gives you nearly limitless expansion possibilities: "With prices hovering just around $400, and room for up to three 3.5" or five 2.5" hard disks inside the enclosure, this unit offers a very interesting set of capabilities and up to 6TB of total storage capacity. And if internal bays aren't enough, don't forget the two USB 2.0 ports and the single eSATA port available to add more (non-RAID) storage. Add built-in support for RAID 0, 1, 5, 6, 10, and JBOD, and you've got all sorts of sophisticated disk management to draw on as well. "
Of course, the N0503's special combo drive bays offer excellent flexibility: "The internal drive bays offer an interesting design: a snap-in cage accommodates a quintet of 2.5" SATA hard disks, or you can remove that cage to install the aforementioned trio of 3.5" hard disks instead. Although this means you must choose to populate the box only with one drive form factor or the other, either approach provides easy installation. The smaller drives pop into latch-held slots, whereas you must pop detachable rails onto 3.5" drives to install them and then fasten them into place with thumbscrews at the end of each one."
Fantastic performance and total ease-of-use: "The N0503 also proffers dual gigabit Ethernet ports and supports either network failover or aggregation modes. This latter capability is quite interesting because it enables the unit to handle multiple access requests simultaneously, while delivering greater network throughput overall—an important characteristic for a NAS box, and not unhelpful for a home server/media streamer, either. Under the hood, the N0503 runs a Linux OS and offers a slick, well-engineered AJAX-based Web GUI to control setup and configuration. It also supports Windows (2000, XP, Vista, Server 2003, and 7), MacOS (9 or X), and UNIX/Linux clients as well. Anybody with a home network is sure to appreciate a Thecus N0503, especially if you're thoughtful enough to throw in some hard disks along with this enclosure (1TB 3.5" drives go for as little as $80 these days, and 320GB 2.5" drives sell for $50-80)."
For the full review, check out:
http://www.tomshardware.com/reviews/buy-zune-hd,2502-7.html
For more information on the N0503, check out:
http://www.thecus.com/products_over.php?cid=12&pid=179
---
About Thecus
®
Thecus® Technology Corp. specializes in IP Storage Server solutions, including Network Attached Storage (
NAS
) , DAS, External Storage and Wireless Media
NAS
(Bank ) products. The company was established in 2004 with the mission to make technology as transparent and easy-to-use as possible, and to make products that are not only the best on the market, but are accessible to experts and novices alike. With a best-in-class R&D team highly experienced in storage hardware and Linux software and with a keen customer focus, Thecus® stays close to the market to develop high-quality products to fulfill the storage Server needs of today's world.
For sales inquiries, please contact us via email:
sales@thecus.com
For marketing inquiries, please contact us via email:
marketing@thecus.com