For sales inquiries,
please contact us at:


sales@thecus.com
For marketing inquiries, please contact us at:


marketing@thecus.com
2006-05-15
Thecus' stylish storage solutions showcased in the City of Industry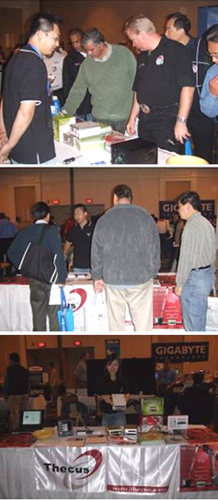 05/15/2006 – The Intel Channel Conference (ICC) is a targeted training road show, specifically designed to educate Intel Product Dealers (IPDs) on the latest Intel product launches, technology announcements, and program benefits. Over the past several years, thousands of IPDs have attended ICC two-times a year in multiple cities across the United States and Canada, and over 450 ICC events are held around the world. On May 2nd, in the City of Industry, over 20 vendors and 300 dealers were in attendance to witness the latest advances in digital storage. With stylish design and unmatched ease-of-use, Thecus Technology managed to turn more than a few heads with full range of digital storage solutions, including the world's first eSATA on DAS device the N2050, the small-yet-powerful YES nano N1050.
The N2050 is the first DAS storage device to feature a high-speed eSATA interface. With eSATA, the N2050 boasts up to 3Gb/s of data transfer speed, and with two 3.5" SATA drive bays, the N2050 can accommodate up to two SATA hard disks up to 500GB in size for a massive 1 terabyte (TB) of storage.
Measuring a scant 124 x 75 x 13mm, the YES nano N1050 is barely larger than the 2.5" hard disk it houses. With the included protective carrying case, the YES nano N1050 makes a perfect travel companion.
For more information on the Intel Channel Conference, go to:
http://intel.seminars.net/showcase/index.asp?sp=ICC06Q1%5FShowCase%5FVenue+%40ModuleID%3D5673
For more information on Thecus, go to:
http://www.thecus.com/
---
About Thecus

Thecus® Technology Corp. specializes in IP Storage Server solutions. The company was established in 2004 with the mission to make technology as transparent and easy-to-use as possible, and to make products that are not only the best on the market, but are accessible to experts and novices alike. With a best-in-class R&D team highly experienced in storage hardware and software and with a keen customer focus, Thecus® stays close to the market to develop high-quality products to fulfill the storage needs of today's world.
For more information, please visit the Thecus® website at:
http://www.thecus.com
For sales and other inquiries, please contact us via email:
sales@thecus.com