For sales inquiries,
please contact us at:


sales@thecus.com
For marketing inquiries, please contact us at:


marketing@thecus.com
2009-12-15

12/15/2009 - Thecus®, leader in storage solutions and member of the VMware® Technology Alliance Partner program, has recently introduced to the world a next generation NAS device: the N7700PRO. This powerful NAS unit is packed with abundant features as well as technology of the future; it is the world's first SMB NAS that supports 10G networks, offering businesses blazing fast file transfer speeds. Now, Thecus® is bringing N7700PRO users more good news by announcing full compatibility with VMware® solutions. The N7700PRO is now officially VMware® Ready certified.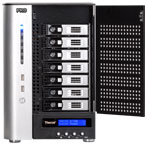 Receiving the VMware® Ready certified logo means that the N7700PRO has passed all the relevant laboratory testing and met all the integration and interoperability criteria outlined by VMware. VMware Ready certification also means that the N7700PRO is fully compatible with VMware ESX 4.0 and ready to run in a production environment to carry out mission critical business applications and operations. Users can also find the N7700PRO now listed on the VMware® compatibility guide.
With the N7700PRO now VMware® Ready certified, business users can utilize the N7700PRO together with VMware® servers to build a virtual infrastructure and create virtual machines (VM). On virtual machines, various OSes can be installed and applications can be installed on each OS to carry out various tasks. The N7700PRO with a VMware® server will form a unified pool of resources that can be utilized by VMs to run applications. Compared with the traditional one server with one application model, virtual infrastructures significantly reduce operating costs, lower electricity consumption and increase overall hardware resource utilization.

"We are thrilled with this latest announcement," said Thecus® General Manager, Florence Shih. "Now that the N7700PRO is VMware® Ready certified, SMB users can also enjoy the full benefits and convenience of virtualization."
For more information on the N7700PRO, check out:
http://www.thecus.com/products_over.php?cid=11&pid=198
---
About Thecus
®
Thecus® Technology Corp. specializes in IP Storage Server solutions, including Network Attached Storage (
NAS
) , DAS, External Storage and Wireless Media
NAS
(Bank ) products. The company was established in 2004 with the mission to make technology as transparent and easy-to-use as possible, and to make products that are not only the best on the market, but are accessible to experts and novices alike. With a best-in-class R&D team highly experienced in storage hardware and Linux software and with a keen customer focus, Thecus® stays close to the market to develop high-quality products to fulfill the storage Server needs of today's world.
For sales inquiries, please contact us via email:
sales@thecus.com
For marketing inquiries, please contact us via email:
marketing@thecus.com