For sales inquiries,
please contact us at:


sales@thecus.com
For marketing inquiries, please contact us at:


marketing@thecus.com
2009-12-10
Mini storage wonder wins a final score of 9 out of 10

12/10/2009 – Is it possible to combine small size with robust functionality? With the N0204 miniNAS from Thecus®, that's exactly what you get. Small yet powerful, the N0204 miniNAS is a complete NAS device in miniature form. In their latest issue, Denmark's Komputer for ALLE Magazine had the opportunity to review the N0204, and were not only impressed by its small size and light weight, but also its low power consumption and easy installation. They liked it so much that they saw it fitting to bestow it with their Recommended Award and a final score of 9 out of 10, citing it as a "Nice little NAS that will be even more attractive when the price level for 2.5 inch discs drops."
GOOD
· Small and light
· Power saving
· Easy installation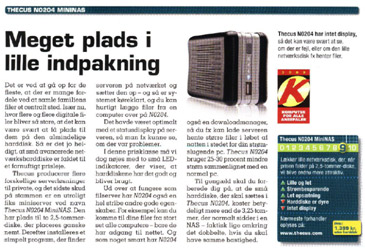 For the full review, check out the November 2009 issue of Komputer for ALLE Magazine.
For more information on the N0204, check out: http://www.thecus.com/products_over.php?cid=11&pid=198
---
About Thecus
®
Thecus® Technology Corp. specializes in IP Storage Server solutions, including Network Attached Storage (
NAS
) , DAS, External Storage and Wireless Media
NAS
(Bank ) products. The company was established in 2004 with the mission to make technology as transparent and easy-to-use as possible, and to make products that are not only the best on the market, but are accessible to experts and novices alike. With a best-in-class R&D team highly experienced in storage hardware and Linux software and with a keen customer focus, Thecus® stays close to the market to develop high-quality products to fulfill the storage Server needs of today's world.
For sales inquiries, please contact us via email:
sales@thecus.com
For marketing inquiries, please contact us via email:
marketing@thecus.com