For sales inquiries,
please contact us at:


sales@thecus.com
For marketing inquiries, please contact us at:


marketing@thecus.com
2009-12-09
Editors praise small size, low power consumption and ease-of-use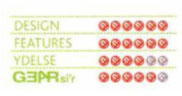 12/09/2009 – The N0204 from Thecus® is truly a marvel of engineering. For the first time ever, users can have a fully networkable NAS device that can fit in the palm of their hand. Gear Magazine Denmark was blown away by the N0204's small size, low power consumption and ease-of-use. In fact, they decided to give it a final score of 5 out of 6!
PLUS
Small and nice
Low power consumption
Lots of features
Easy to use
The N0204 is no larger than a paperback book, and yet houses some incredible functionality.
Two 2.5" SATA hard disk bays
mean that users can equip it with up to
1TB
of storage space. Using its
Gigabit Ethernet port
, N0204 users can easily connect it to their home network and begin sharing files across their network quickly and easily. In addition to storage, you also get a
photo web server, iTunes server, FTP server, media server
and other useful functions, making the N0204 the most powerful pocket NAS on the market.
For the full review, check out the November 2009 issue of Gear Magazine.
For more information on the N0204, check out: http://www.thecus.com/products_over.php?cid=11&pid=198
---
About Thecus
®
Thecus® Technology Corp. specializes in IP Storage Server solutions, including Network Attached Storage (
NAS
) , DAS, External Storage and Wireless Media
NAS
(Bank ) products. The company was established in 2004 with the mission to make technology as transparent and easy-to-use as possible, and to make products that are not only the best on the market, but are accessible to experts and novices alike. With a best-in-class R&D team highly experienced in storage hardware and Linux software and with a keen customer focus, Thecus® stays close to the market to develop high-quality products to fulfill the storage Server needs of today's world.
For sales inquiries, please contact us via email:
sales@thecus.com
For marketing inquiries, please contact us via email:
marketing@thecus.com