For sales inquiries,
please contact us at:


sales@thecus.com
For marketing inquiries, please contact us at:


marketing@thecus.com
2009-12-07
A cutting-edge cost effective storage solution for enterprise users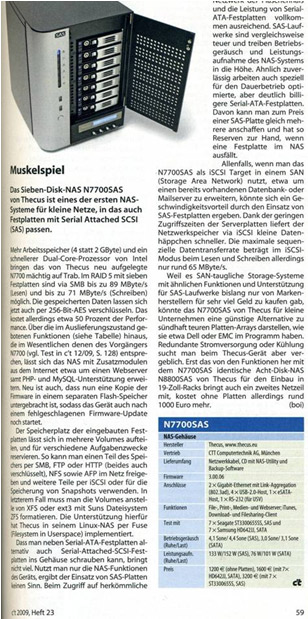 12/07/2009 – Corporations are on constant lookout for storage solutions that deliver ample storage and strong security while being cost effective. Enter the N7700SAS from Thecus®, a seven-bay NAS with no shortage of features or performance at a very competitive price compared to other storage solutions in its class. In their latest review, Germany's c't Magazine confirmed this fact, and at the same time, was very impressed with what the N7700SAS brought to the table.
Here's what c't editors had to say about the N7700SAS: "Thecus breaks again the high prices in SAN Area with similar performance and features and support for SAS Drives like famous brands (Dell/EMC) offering currently for much more expensive HDD array solutions. We see the N7700SAS as a solution for medium-size companies, universities, and government organizations. They have an additional choice in the form of a 19" rackmount product featuring similar functions. The product is called the N8800SAS and is has an additional power supply for redundancy."
For the full review, check out the November 2009 issue of c't Magazine.
For more information on the N7700SAS, check out:
http://www.thecus.com/products_over.php?cid=11&pid=170
---
About Thecus
®
Thecus® Technology Corp. specializes in IP Storage Server solutions, including Network Attached Storage (
NAS
) , DAS, External Storage and Wireless Media
NAS
(Bank ) products. The company was established in 2004 with the mission to make technology as transparent and easy-to-use as possible, and to make products that are not only the best on the market, but are accessible to experts and novices alike. With a best-in-class R&D team highly experienced in storage hardware and Linux software and with a keen customer focus, Thecus® stays close to the market to develop high-quality products to fulfill the storage Server needs of today's world.
For sales inquiries, please contact us via email:
sales@thecus.com
For marketing inquiries, please contact us via email:
marketing@thecus.com