For sales inquiries,
please contact us at:


sales@thecus.com
For marketing inquiries, please contact us at:


marketing@thecus.com
2009-12-04
iSCSI, VMware®, 10GbE Ready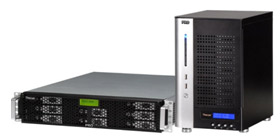 12/04/2009 - In the competitive world of business, the ability to provide critical information efficiently and effectively to the right people while controlling operating costs is the key to survival. To achieve this, businesses need a storage solution that is not only cost effective and flexible, but also has the expandability to be upgrades and adapt to new technologies without the need to spend a fortune when replacing an existing storage infrastructure. For that, Thecus® has come up with the perfect storage products for the business environment. The recently released N7700PRO and N8800PRO SMB NAS devices from Thecus® are packed with advanced technologies, superior performance and expandability, offering businesses everything they need be competitive.

The N7700PRO and N8800PRO inherited all the features and power from their brother NASes, the N7700 and N8800. On top of that, the N7700PRO and N8800PRO have been upgraded with the powerful Intel® Core™ 2 Duo processors and 4GB of DDR2 RAM. Furthermore, the new PRO series also comes with new features that are specially designed to meet the needs and demands of the modern business environment.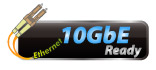 Speed is crucial to businesses, because businesses need to be able to access their data efficiently when needed to provide timely services and information to the relevant parties. With the N7700PRO and N8800PRO, this can be easily achieved. Besides having powerful processors and memory, the N7700PRO and N8800PRO have a built in PCI-e expansion slot, which is compatible with high-speed 10Gb Ethernet adaptors. For businesses environments with high throughput demands, simply plug in a 10Gb Ethernet adaptor into the N7700PRO or N8800PRO, and business users can instantly enjoy blazing fast transfer speeds of up to 420 MB/s.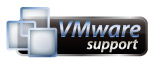 VMware® virtualization technology has greatly transformed today's IT infrastructure. More and more businesses, large and small, are starting to replace existing infrastructures to the dynamic and flexible VMware® virtual infrastructure. Now, with the Thecus® N7700PRO and N8800PRO, users can also enjoy the benefits and convenience of virtualization technology. Users can utilize a N7700PRO or N8800PRO together with a VMware® server to create a virtual infrastructure with virtual machines (VM). On the virtual machines, various OSes can be installed and applications can be installed on each OS to carry out various tasks. The N7700PRO and N8800PRO with a VMware® server will form a unified pool of resources which can be utilized by various applications, rather than the traditional one server with one application model, thus significantly reducing operating costs, lower electricity consumption and an increase in overall hardware resource utilization.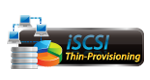 iSCSI is a simple and cost effective way to manage servers and transfer data over long distances, which is why iSCSI has been broadly used today by businesses of all scales. When businesses need to expand their storage space, iSCSI target volumes can be allocated on the N7700PRO and N8800PRO. These target volumes can be connected by iSCSI initiators from various OSes (Window,Mac or Linux) to install applications or used as extra storage space. The N7700PRO and N8800PRO also have built-in iSCSI initiators which can be used to connect with other Thecus® NAS products for storage space expansion. Thin-provisioning technology is also supported on the N7700PRO and N8800PRO. With this technology, business IT administrators have the ability to allocate physical storage space only when needed to greatly reduce hardware expenditure and maximize hardware resource utilization.
The N7700PRO and N8800PRO are packed with all the essential technologies for modern businesses. Together with 10Gbe compatibility and VMware® support, businesses have the speed and technology required to create a storage network that is able to efficiently and effectively manage their data to provide timely services to their customers. With iSCSI support, businesses also get the expandability and flexibility required to upgrade and expand their network system when needed.
Equipped with the latest technology as well as the technology for the future, the N7700PRO and N8800PRO are not only the most powerful SMB NAS devices currently on the market; they are also the ideal NAS solutions for the modern business environment.
---
About Thecus
®
Thecus® Technology Corp. specializes in IP Storage Server solutions, including Network Attached Storage (
NAS
) , DAS, External Storage and Wireless Media
NAS
(Bank ) products. The company was established in 2004 with the mission to make technology as transparent and easy-to-use as possible, and to make products that are not only the best on the market, but are accessible to experts and novices alike. With a best-in-class R&D team highly experienced in storage hardware and Linux software and with a keen customer focus, Thecus® stays close to the market to develop high-quality products to fulfill the storage Server needs of today's world.
For sales inquiries, please contact us via email:
sales@thecus.com
For marketing inquiries, please contact us via email:
marketing@thecus.com