For sales inquiries,
please contact us at:


sales@thecus.com
For marketing inquiries, please contact us at:


marketing@thecus.com
2014-11-04
"The N5550 is a great device to have"

11/04/2014- T-Break media consists of a team of highly passionate editors who are experts in the fields of technology, video games, and movies. Focused on creating quality content for the Middle East, both in English and Arabic, this week T-Break took the Thecus N5550 for a spin.
Hardware
Noting from the start that the N5550 was "certainly a beast of a device to have around", T-Break was impressed both by its security-consciousness ("In the front behind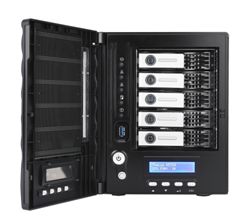 a plastic door are the five bay drives, which can be individually locked to avoid theft and tampering") and its connectivity ("In addition to two Ethernet ports at the back and 4 USB ports, there also ports for HDMI, VGA, and audio, which means that the N5550 can be connected to a TV and used as a multimedia device, similar to a HTPC"). Overall, they found that "the N5550 is well built."
Performance
"When it comes down to performance, the N5550 really did do quite well. A file copy operation in Windows to the N5550 for several large files saw speeds of around 98MB/s, while smaller files dropped down to around 86.2MB/s (RAID 5). These speeds of course will vary slightly depending on your RAID configuration, disk type, and network traffic, but overall they are quite respectable."
"The N5550 also did quite well with recovery – during a file copy I pulled out one of the drives, and the copy immediately paused for several seconds while the N5550 figured out what was wrong and how to overcome the issue (complete with very audible beeping). The same goes for if you're adding a drive to the array – the process is very straightforward and can be performed with minimal fuss."
Software
When it came time to examine the "minimalist" interface, T-Break found that there were a "huge number of advanced features and options that users can tweak."
"You can install a number of 'modules' that automatically download and install to the N5550 to further expand its offerings. Common examples include Dropbox integration, backup options, and MySQL, among others. Alternatively, you can visit Thecus' website to view and download the full range of apps that are available."
"The addition of video and audio ports on the N5550 means that you can in theory connect it to a TV and enjoy any media content you may have. In order to get this to work, you need to first install a package called "Local Display" to enable to video ports, followed by XMBC to actually catalog your content. But once installed and the drives were scanned, I was able to flip through my content and watch it without any issues on my TV. Plug in a wireless keyboard and mouse, and you're pretty much good to go with your own mini-entertainment hub. Of course you can also install other applications such as Plex to enable streaming directly to other DLNA compatible devices on your network."
Conclusion
"When it comes to performance, the N5550 is a great device to have. It can be configured to be a very robust storage or backup device, and there are plenty of things to tweak for advanced users."

Thanks to Nick Rego and everyone at T-Break for the review.
For the full review of the Thecus N5550 by T-Break, go to:
http://tbreak.ae/thecus-n5550-nas-review/
For more information on where to buy this product, go to:
http://www.thecus.com/wtb.php
For more information on the Thecus N5550, go to:
http://www.thecus.com/product.php?PROD_ID=76
---
About Thecus®
Established in 2004, Thecus Technology Corp provides market leading network attached storage and network video recorder solutions, committed to revolutionize how everyone from home user to enterprise level business centrally stores, manages and accesses their digital data both onsite and cloud-based. Thecus strives to deliver continuous innovation through cutting edge technology and design to provide data storage with the most customer-friendly platform, rapid performance and robust security. In May 2016, Thecus was formally acquired by Ennoconn Corporation and thus became part of the Foxconn IPC Technology group. Partnered together this diverse group of companies work in tandem to provide a total IoT (Internet of Things) solution. Now with an unparalleled portfolio to work with, Thecus is collaborating to bring unprecedented change to the network storage industry.